We previously reported that Motorola is facing intense pressure from users to unlock their devices, and it seems like the mobile giant may finally be giving in.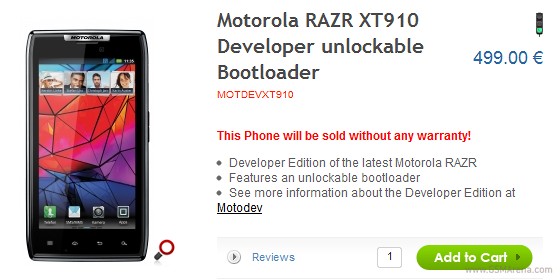 In a recent post on their official blog, Motorola announced that it will be shipping the unlockable RAZR sans warranty, as well as with post-purchase instructions on how to unlock/relock the device, locate build instructions, as well as access additional developer resources.
Unfortunately, US users will have to wait, but we're curious whether or not this has anything to do with the upcoming Google acquisition hearing before the EU.
Get it while it's hot here.
D
Every phone should come out like this.
S
European law dictates that any gsm has to be sold with a 2y warranty minimum and as far as Dutch law says you can always expect a warranty that is reasonable regarding the product... ( e.g. cheap mp3 player less than an expective washing machine)......
ADVERTISEMENTS