Motorola decided to shed some light on their Android lineup upgrade plans. Froyo is definitely coming to Droid, Droid X, MOTOROI as well as the European and Korean MILESTONE, while Eclair will land on CLIQ, CLIQ XT and the US BACKFLIP.
The announced plans are tricky, because half of them are still "under evaluation". All Motorola handsets in Canada are yet to be decided, along with the Asian MILESTONE, BACKFLIP, DEXT and QUENCH. Froyo upgrade for the Latin America's MILESTONE is also in this group.
Unfortunately the Europe and Latin America BACKFLIPs, won't get Android 2.1. At this stage of evaluation the DEXT versions in those regions won't get the chance to have a taste of Eclair either.
Here comes the full table straight from Motorola with details about all the devices.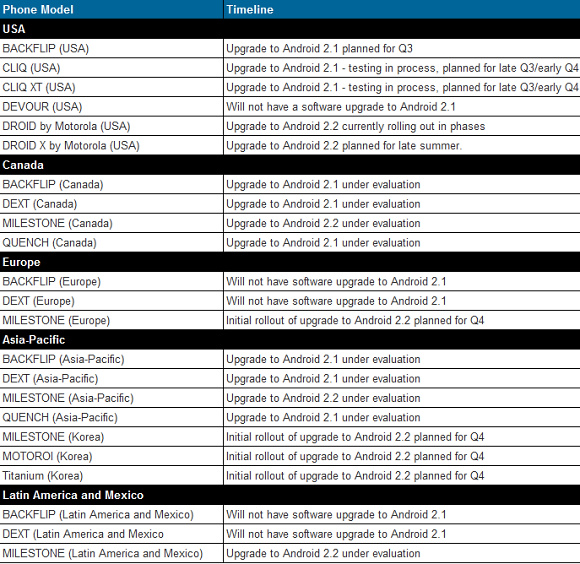 ?
I just checked the motorol website,the schedule there is different from this can someone clarify. I want to believe that the on here is correct but the rationale part in me tells m to blv the lot site. The site for ur rfrnc: https://supportfor...
A
thinking of getting the milestone handset when pay day arrives. am i right in thinking the froyo update will be ok being used on uk networks? Cheers :)
B
Motorola should JUST REALISE THAT THEY NEED TO STOP FRAGMENTING THEIR CELL PHONES OSes.. Instead of making a firmware for each region, create a unified code for every market, and create a separated program or whatever framework for localization....
ADVERTISEMENTS