A whole bunch of new Motorola handsets seem to be under way. Some of the devices have already been spotted online but now we have more details and there are some devices that haven't come up until now. A leaked Motorola 2008 roadmap disclosed all the information and we are more than happy to pass it on.
Chances are that you've already heard that the Motorola Mobile Division is going through some rough times. It's good to see that they are trying their best to fight back, but even now that we see what they will have to offer in 2008, we are not really sure that they are going to make it successfully through the end of the year. At least to us their chances are as low as the resolution of this leaked roadmap image.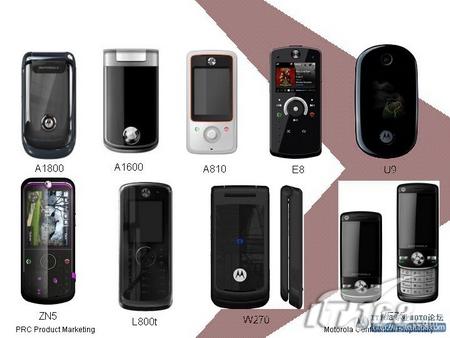 Motorola A810 has a 2.2-inch 262K color TFT display with QVGA resolution and a 2 megapixel camera. It runs on a 200 MHz TI OMAP850 processor. It boasts stereo Bluetooth, FM radio, USB 2.0 connectivity, a 3.5 mm audio jack and tri-band GSM/GPRS/EDGE support. Memory is expandable via a microSD memory card.
Motorola A810 measures 104.85 x 50.8 x 13.5mm and weighs 100 grams. It has a touchscreen display with full support for handwriting recognition and uses Linux OS for its user interface.
The Motorola VE75 is a dual SIM slider with a large 2.6-inch 262K color TFT display. The display has 16:9 ratio and has a WQVGA resolution (240 x 400 pixels). Much like the recently reviewed Samsung D880 duos, the Motorola VE75 has dual SIM functionality, which allows it to operate with two SIM cards simultaneously.
Motorola VE75 measures 110 x 50 x 18.9mm and weighs 120 grams. The multimedia widescreen device also sports a 2 megapixel camera and Bluetooth connectivity.
We already told you some details about the upcoming Motorola A1600 MING, but there is some new information now. The Motorola A1600 is equipped with GPS, WLAN and a 3 megapixel auto focus camera. The touch-based A1600 comes as a successor of the original Motorola A1200 MING and has a 2.4-inch 262K TFT display.
The Motorola A1600 will have quad-band GSM/GPRS/EDGE support and will measure 98.5 x 53.4 x 19.50mm and weighs 120 grams.
The Motorola A1800 MING is also a handset we reported on recently. It's unique with the fact that it can work simultaneously in GSM and CDMA x1 networks - that may be of particular interest to US customers.
The Motorola A1800 MING will also have a GPS receiver and will sport a touchscreen 2.4-inch QVGA TFT display. It will measure 95.3 x 52.5 x 24.95mm and weigh 132 grams.
The Motorola L800t is again a dual-network device. It will be the first TD-SCDMA handset by Motorola (TD-SCDMA is a 3G telecommunications standard currently being tested in China). Beside that the Motorola L800t has GSM/GPRS support.
Its specifications are relatively lower midrange - a 1.9-inch 176 x 220 pixel TFT display and a 2 megapixel camera. The Motorola L800t naturally has Bluetooth support. The handset measures 49 x 112 x 15mm and weighs 110 grams.
And finally, the flagship of the product line is the 5 megapixel Motorola ZN5 codenamed "Texel". It's only 11.9mm in thickness and has the impressive morphing keypad seen otherwise on Motorola ROKR E8.
The Motorola ZN5 will run on the Montavista Linux 2.6.1 OS and a 500MHz Freescale SCMA11 processor. The ZN5 will also flaunt a 2.4-inch 262K color TFT display with QVGA resolution. Bluetooth and TV-out port complete the feature set that's known for now.
Since all these devices are scheduled for Q2 2008 we should be expecting an official announcement by Motorola within a month or so.
And finally, there's another leaked Motorola today, which obviously haven't made it to the roadmap published above. It's the music-oriented Motorola ROKR E10, enjoy.
it168.com
and
phonehk.com
?
The person who post this article might get into trouble. Leaking of company secret. That is punishable under law.
?
Well, I agreed that the camera is more important. When transported to PC, it's easier to notice lack of quality in camera shot. Compared to audio, I think peoples with superior hearing whom difference between audio will actually matters a lot is...
p
hi, to me there must be 2 things a phone now must have to get the edge. one is the ability to make your own LCD(like samsung and LG) and great camera modules (like Sony and Samsung and LG). You can add many soft features but you can never be the best...
ADVERTISEMENTS