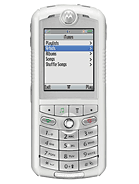 J
nice phone, too bad it doesn't have a megapixel camera. can't have everything i guess. i'm sure the stero speaker must sound good though.
H
Well it sure doen't look like an iPod... And the memory capsity is 2 low to become a hit, or in a matter only to cary ur best hits. :P And why only VGA-Cam? Only cool part about the looks is that is looks a bit iPod like cos it's white. I really hope the headphones r not as crappy as iPods have. All ppl how are eager to get the ROKR E1, check out W800i by SonyEricsson. I recommend it instead of this.
Total of 1043 user reviews and opinions for Motorola ROKR E1.