While everyone is still waiting for Motorola to announce their first Android-powered smartphone, another highly intriguing model was unveiled. The full-touch Motorola ROKR ZN50 has nothing to do with Android but is still interesting enough to make it in the news.
Motorola ROKR ZN50 is the first full touchscreen music slider by the American company. Its design, slightly reminds us of the Nokia XpressMusic lineup with its blue and red accents, only that it is much hotter looking.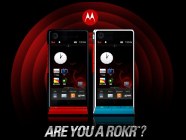 The two color versions of Motorola ROKR ZN50 • image source
Motorola ROKR ZN50 is also the first Moto to have the new Motorola panorama interface which is featuring 3 homescreens, that you can freely fill up with the load of widgets available.
Motorola ROKR also fares pretty decently in terms of features. It sports a 3.2-inch 256K TFT touchscreen with a 16:9 aspect ratio and a resolution of 240 x 427 pixels. It also comes complete with a 3 megapixel autofocus shooter, built-in GPS receiver and support for stereo Bluetooth and HSDPA.
As far as the music capabilities of the ZN50 are concerned, we have to mention the SRS WOW HD technology as well as the 3.5mm audio jack and the dedicated music player controls. The handset which measures 108.9 x 54 x 14.34 mm and weighs the hefty 143 g. Its relatively small 950 mAh battery allows up to 30 h non-stop music playback. The built-in microSD card slot with support for up to 16GB memory cards makes sure that you will have enough room for all your favorite tracks.
The new full touchscreen music slider also pack a T-DMB2 TV tuner which, allows you to use the device as a pocket TV set.
What we cannot quite understand about the ROKR ZN50 is why the hell it'll only be available in Korea. After all, one of the hottest Motos we've seen lately certainly deserves worldwide availability.
A
Can anyone tell me a safe online site i can buy this phone from...ebay and yesasia don't have the phone
?
they need to release this phone worldwide.
ADVERTISEMENTS