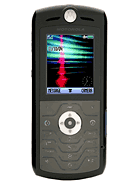 R
This phone is RAZR thin. MP can't really fit. You can't expect them to do everything. Motorola's da bomb!
A
the expandable memory is excellent, megapixel would have been nice, anyway how thin is this thing?

The v3 looks better
m
If you aint read, Motorola was making a candy bar version in the RAZR series. At least this has memory exansion slot, megapixel is not that important. You right they coudve changed the keypad design keeping the flat format. Better than the V3 though lest just hope theyve improved the battery.
Total of 2583 user reviews and opinions for Motorola SLVR L7.