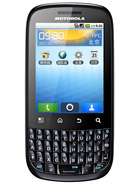 G
Mine only had 150 MB RAM and a little more internal memory, which became insufficent by just installing the mandatory updates. Slow as hell. The phisical keyboard used to stop working and had to reset it several times. Keys backlight didnt work properly. It was no smart at all...
J
I personally don't recommend this phone, I only have solitarie installed and it is slow as hell, the battery doesn't last for an entire day even if you don't use it, the camera seems lika a VGA, and internal memory is too short, I can not installed anything else in the phone!...I decided to buy it because it has android, but I regret it
D
I don't know why here it says it comes with 256 / 512 MB of internal storage when mine had only 158 MB, which totally sucks. The phone runs reaaaally slow when you get it running most apps.
I definitely don't recommend this phone to anyone, not even entry level Android users. Maybe, just maybe to someone that uses a phone just for texting and calling, but for everything else it a waste of money.

I know I can't expect a top-notch phone out of these specs, but common, at least I want to use Wassap and some other app without the full-memory warning popping up!
v
I bought this phone a few days ago. the problem is that when I write using the keyboard I have to touch every single word in the suggestions below. I mean I cannot leave a space between words without doing that. What can I do?
D
This Phone Is Working Perfectly For Me 9/10 Everything Works Just Fine
D
Someone with this phone. Could you please tell me if it works well with voice calls through Skype? Thank you very much.
i
In the first 7 days, I had 3 changes..it have interference, all of them from different dealers, so the problem is the celu.
And its always freezing,..always without battery charge. Now, mine is in the technitian, and I had to take another one from the dealer temporaly. Bad experience from the begining
I
I bought one week ago, The mobile is median.
Camera is worst part, but I think that it is nice mobile.
The price in Brasil is equivalent 300 dólars. But mobiles in Brazil is very expensive.
E
AnonD-2725, 14 Jul 2011Not bad for a budget phone. Go Moto!!Budget phone means????????Where's the price?
Total of 12 user reviews and opinions for Motorola SPICE Key.