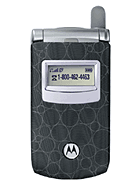 p
i had this phone for 3 years it was very good but never worked on o2 like its ment to

?
I really like my Motorola T725. My service is Cincinnati Bell Wireless and I can go almost anywhere and not have a problem with reception. The phone does what I need it to do which is "making and receiving" phone calls. I haven't had any problems with battery power. It does much better than my old Nokia.
G
Utterly dismal battery life. I thought I had a bad battery so my service provider replaced the battery with a new one at no charge. No improvement. I get a max of two to three days on standby and if I use it to take/make calls at all, the battery dies in a day. My old Nokia would go a week or more without charging.

Case quality is poor. The hinge creaks if you twist it slightly. Keypad is nice. Lack of a camera is nice (camera phones are the stupidest fad I have ever seen).

Overall: I miss my old Nokia. If this is the quality of Motorola products these days, Motorola is in big trouble.
S
Don't get it! It does not perfom as advertised.
My old nokia had better reception.
L
It's okay. It's not very loud. I have to hold it closer to my face when it's on speakerphone.
l
flip phone can not get any ringtones for some reason
s
does this phone available in singapore? how to get this thing?
h
this is a really good phone
R
I'm living in Florida and I would like to know which carrier support the T725 phone in USA.
n
sir
i went price detalies
thankyou
sreeraam
?
no camera?? every phone needs a camera these days.
Total of 12 user reviews and opinions for Motorola T725.
ADVERTISEMENTS