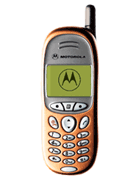 b
hi,

were can i get/find melody composer for this type of phone, it's realy to find it. If anybody have/know ere can i find the melody just let me know...i'm very gladfull thanks
R
Hi, man. Is this the motorola mobile u were talking about?
Because I knew about this long before it came out, which means that it is already available in Brunei.
Yeps, for $345, altho the battery is nickle, not lithium.
Bah, lawa ah!!?
M
Yes, it also has the same Bug in the spanish ITAP, dictinary, if I use it to send mesagess, the receivers, only receive that the message format is not compatible........
M
Simply perfect, it has lots of practical features, in a size similar to T28, or 8210. Its a real Mobile Gem, an at a price that's smaller than it size.
Motorola is doing better .....
V
Nearly perfect model, but a bug with the T9 (French) is ennoying : you type for exemple the word "Cher" or "nous" and the phones send a lot of "squares" but not the messge you typed......
e
how much T191?. If i have T180 and i want to sell for buy T191? Because it look nice and though.erie-jakarta-indonesia
e
This is a horrendous phone! It's ok if the screen is small, but the FONT IS SO BIG! No words can fit the screen! Buttons are very hard. Navigation on the softkeys are quite confusing. T9 response is very slow. I can finish my keystrokes and have to wait for the software to interpret my words (similar to T39, but even slower).
Total of 212 user reviews and opinions for Motorola Talkabout T191.
ADVERTISEMENTS