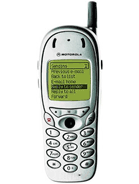 V
It seems to me it can store up to 500 (definitely not 1000 numbers) records in its phonebook. I have read that it stores info aout 10 dialed, 10 received and 10 missed calls. Moreover, it can be equipped with 850 mAh battery. It also has Bluetooth option. Please check.
X
Does this phone has a mini joystick like t68? PS: The wap browser is v1.1 not 1.2
T
Sorry Nokia.com, but i dont see your bluetooth mobile yet.... nor your TRI-BAND gprs come backwith a comment when you can actually best a phone like the 280 with something other than cutesy gimmicks like Xpress-on covers!
t
cred ca este o reusita fata de l7089pe care il detin si de care nu sunt multumit pentru ca nu are (wap) si(alarma) cum as putea intra in posesia acestu telefon (t280)? si la ce pret?
M
This phone is not available at this moment, and I do not understand how can it has 17 votes.
The phone features are quite promising:
- 7-line large display with a WAP browser,
- infrared connectivity,
- wireless data modem,
- tri-band.
Idideal for a mobile web user or developer
who needs the phone in the USA and Europe.
Unfortunately, no Nokia phone has all these features. Only some Ericsson phones can compete. Unfortunately, no web-capable Nokia phone is available for the US GSM1900 market.
Total of 51 user reviews and opinions for Motorola Timeport 280.