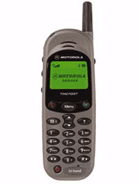 J
this is just to let you know that i appreciate every bit of this handset.
M
I bought the P7389 because I needed a
WAP-, infrared- and wireless data modem-capable, tri-band (900/1800/1900) GSM phone for a reasonable price. I'm using the phone in the USA with a VoiceStream SIM card and EarthLink ISP services. I'm not totally happy with the WAP-browser (Phone.Com's UP.Browser 4.1) but on the whole for this price
for the services I needed P7389 is the best choice at the moment. It works as advertised.
Possibly the Ericsson R520m, T39, T68 will be better when available
but at a much more higher price.
Total of 44 user reviews and opinions for Motorola Timeport P7389.