If you are planning to treat yourself to a brand new shiny Moto X for the holidays now is just the right time to act. Motorola`s Cyber Monday deal is available to UK customers and is set to also go live in the US at 11am CT.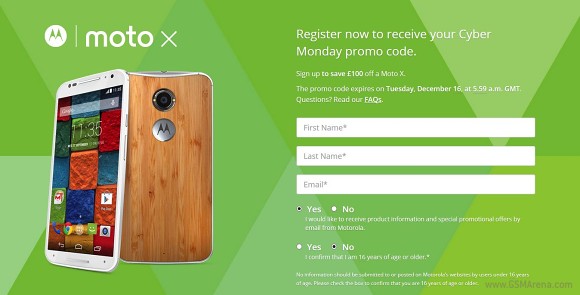 The promotion features a £100 ($155) reduction in the smartphone's price, which puts it at £319.99 ($500) for the 16GB and £359.99 ($560) for the 32GB version. Motorola has also made the offer pretty convenient for users.
All you have to do is sign up no later than 12pm GTM on December 12 for a free promotion code. It in turn can be applied to the purchase of a Moto X up until 5.59am GTM on December 16.
It looks like the deal will be available for quite some time so you have plenty of opportunities to get your hands on a device that offers nothing short of a superb Android experience.
Source 1
|
Source 2
|
Via
M
I would like to get Motorola. BUT their battery life is totally in assssssssssssss. 43h against 81h to LG G2. I just can't switch. Despite fast charge and stuff...
?
where is lollipop for moto g? They were the first ones to mouth off about it and still nothing for the retail version (2014)
ADVERTISEMENTS