Motorola unveils Moto G200 5G with SD 888+, along with four other G-series models
Motorola unveiled the next generation Moto G series phones starting with 5 new models. They cover everything from €200 mid-rangers to Snapdragon 888+ devices (which won't break the bank either).
Two of the models offer large, high refresh rate LCDs, the other three prefer smaller OLED displays. All five models have 5,000 mAh batteries, though they support different charging rates. The final shared detail before we look at them individually, is the near-stock Android 11 (with a set of My UX tools) with one guaranteed major Android OS update.
Motorola Moto G200 5G
This is a step up in three categories compared to the Moto G100. It starts with the chipset, this phone is powered by Qualcomm's current best offering – the Snapdragon 888+. And while the next-gen chip is just around the corner, this is a €450 phone, so you're getting a lot of performance for the money.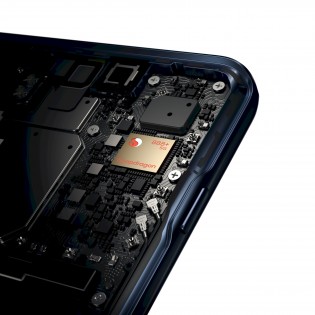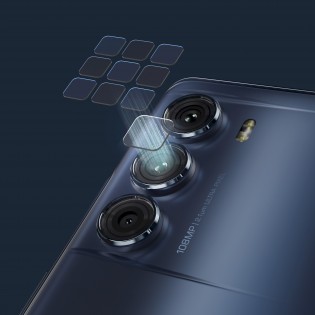 Motorola Moto G200: Snapdragon 888+ chipset • 108 MP main camera with 9-in-1 binning
Another upgrade is that the slightly larger 6.8" LCD on the Motorola Moto G200 5G now runs at 144Hz refresh rate (up from 90Hz). Few devices outside of gaming phones can match that and this one flaunts one of the best GPUs for Android. The display also has an HDR10 certification and supports the DCI-P3 color space
Back to the chipset, it is paired with 8GB of fast LPDDR5 RAM and 128/256 GB UFS 3.1 storage. This performance can also be put to work using Ready For, Motorola's desktop mode. You can find more details about it in our G100 review.









Moto G200 in Glacier Green and Stellar Blue
The final major upgrade is the camera department. The main module features a 108MP sensor that boasts 2.1 µm effective pixel size when using 9-in-1 binning and 8K video capture (plus a 960 fps slow-motion mode). Next to it is a 13MP ultra wide-angle camera with autofocus, which doubles as a macro camera, plus a depth sensor. On the front is a 16MP selfie camera.
The phone is powered by a 5,000 mAh battery that supports 33W fast charging (Moto says that 15 minutes of charging is enough juice to last you to the whole day). The frame and back are made out of plastic, though Motorola tried to glam things up with metallic paint on the frame and a matte finish on the back, plus basic water resistance (IP52).

The Moto G200 5G is headed to Europe in a few weeks and will also be available in Latin America.
Motorola Moto G71 5G
This is a more compact offering with a 6.4" display – a 1080p+ 60Hz OLED panel. Instead of raw power, the focus here is on a good 5G experience, based on the Snapdragon 695 chipset, which was announced only a couple of weeks ago. It promises 15% higher CPU and 30% higher GPU performance compared to the SD 690 chip, plus the power efficiency that comes with the 6nm node.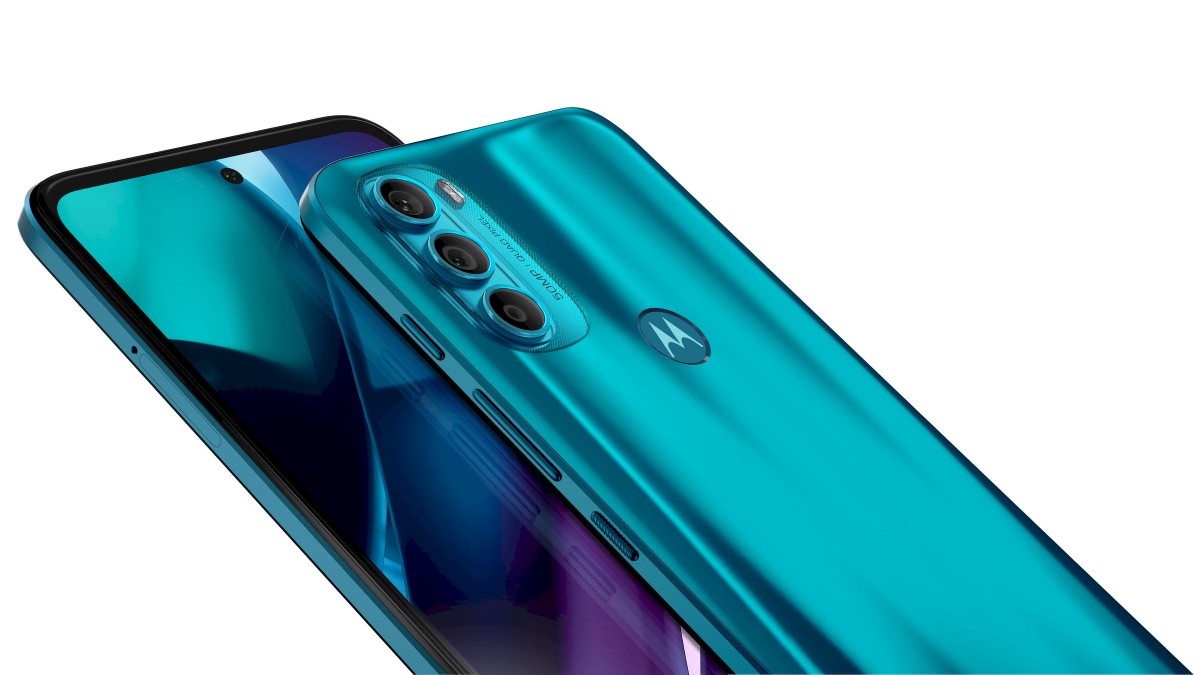 The chipset is normally paired with 6GB of RAM, though the version sold in India will get 8GB instead. There is also 128GB of built-in storage, plus a microSD card slot.
The Motorola Moto G71 5G has a 50MP main camera, plus an 8MP ultrawide module and a 2MP macro camera on the back. Note that video recording is capped at 1080p/60 fps.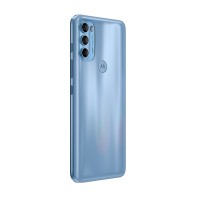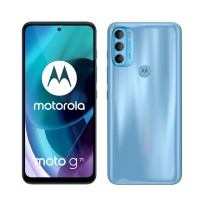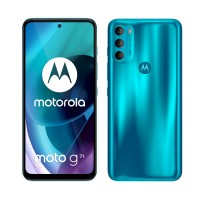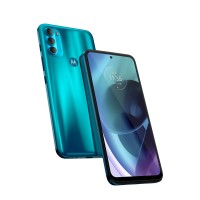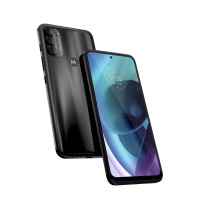 Moto G71 in Arctic Blue, Neptune Green and Iron Black
Despite its smaller dimensions, this one also has a 5,000 mAh battery with fast charging (30W). 50% charge is achieved in half an hour. Unlike the G200, however, the USB-C port is wired only for 2.0 connectivity. Like the G200, it supports Dolby Atmos and has a water-repellent design (IP52).
The Moto G71 will be available in Europe for €300 in a few weeks, then it will launch in select markets in India, Latin America and the Middle East.
Motorola Moto G51 5G
This is a mix of the G200 and G71. It offers 5G connectivity, courtesy of the Snapdragon 480+ chipset, an overclocked version of the original 480. This one also upgrades display support, so it can handle 1080p+ resolution at 120fps – which is great because the 6.8" LCD does have 1080p+ resolution and runs at 120Hz.
If the G200 is above your budget, but you want a large display and 5G, the Moto G51 5G is an option to consider. There's Dolby Atmos support too, making this an entertainment machine on a budget. Specifically, a budget of €230.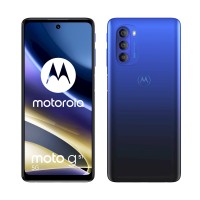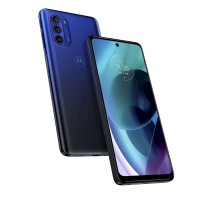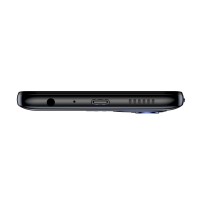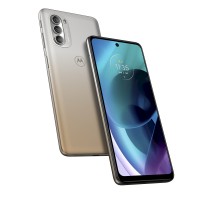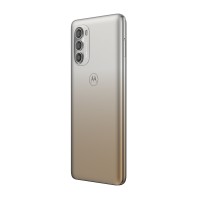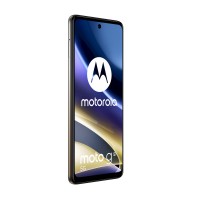 Moto G51 in Indigo Blue and Bright Silver
The camera comes from the G71, a 50MP main camera plus an 8MP ultra wide (with a 1080p/60fps resolution cap on video) and 2MP macro. The base storage is 64GB, but there is a 128GB option and a microSD slot if you need more.
With a screen this size, the phone has a 5,000mAh battery, of course, though it is slow to charge at just 10W. The phone's body is IP52 rated for splash resistance.

The G51 will also launch in Europe first, then it will expand to India, Latin America, the Middle East and Asia.
Motorola Moto G41
Whereas the G51 was a budget G200, the Moto G41 is a budget G71. By that we mean that you get the same 6.4" OLED display with 1080p+ resolution and 60Hz refresh rate. The price tag is slightly lower at €250.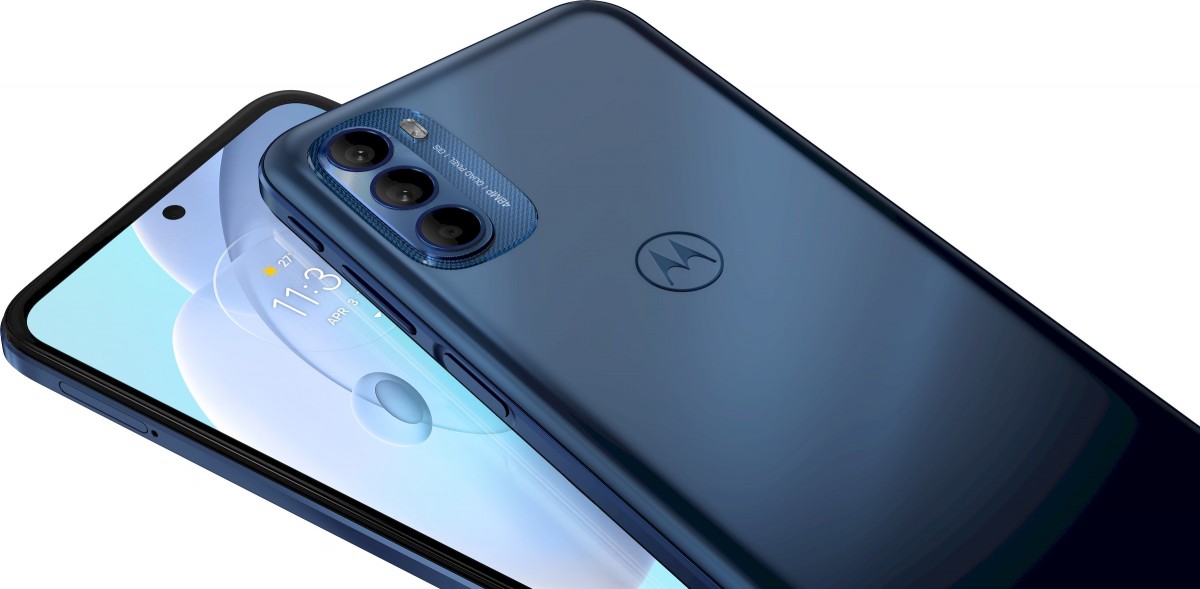 This comes with some sacrifice – no 5G, as the phone is powered by a Helio G85 chipset. The chip is paired with 4GB or 6GB of RAM, plus 64/128GB of built-in storage and a microSD slot.
The camera is very similar with a 48MP main sensor, this one with Optical Image Stabilization (OIS), 8MP ultrawide (plus a macro mode) and 1080p/30 fps video recording. As with the others there is Dolby Atmos and an IPX2 rating. Interestingly, however, the 5,000 mAh battery on this one charges at 30W, beating the G51.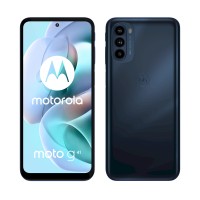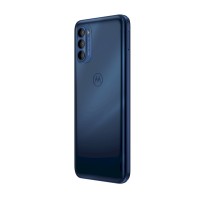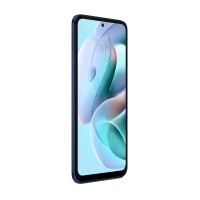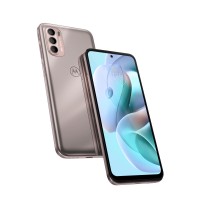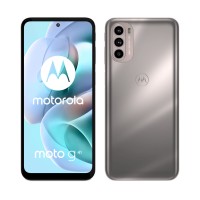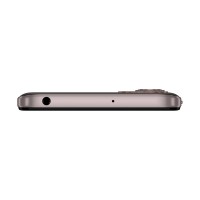 Moto G41 in Meteorite Black and Pearl Gold
The Moto G41 will be available in Europe soon, followed by launches in Latin America and the Middle East.
Motorola Moto G31
This is another budget take on the G71 formula. It has the same 6.4" OLED display (1080p+, 60Hz) and IPX2 rating. There is no 5G support here as the phone is based on the same Helio G85 chipset as the G41 (with 4GB of RAM, 64/128 GB storage and a microSD slot).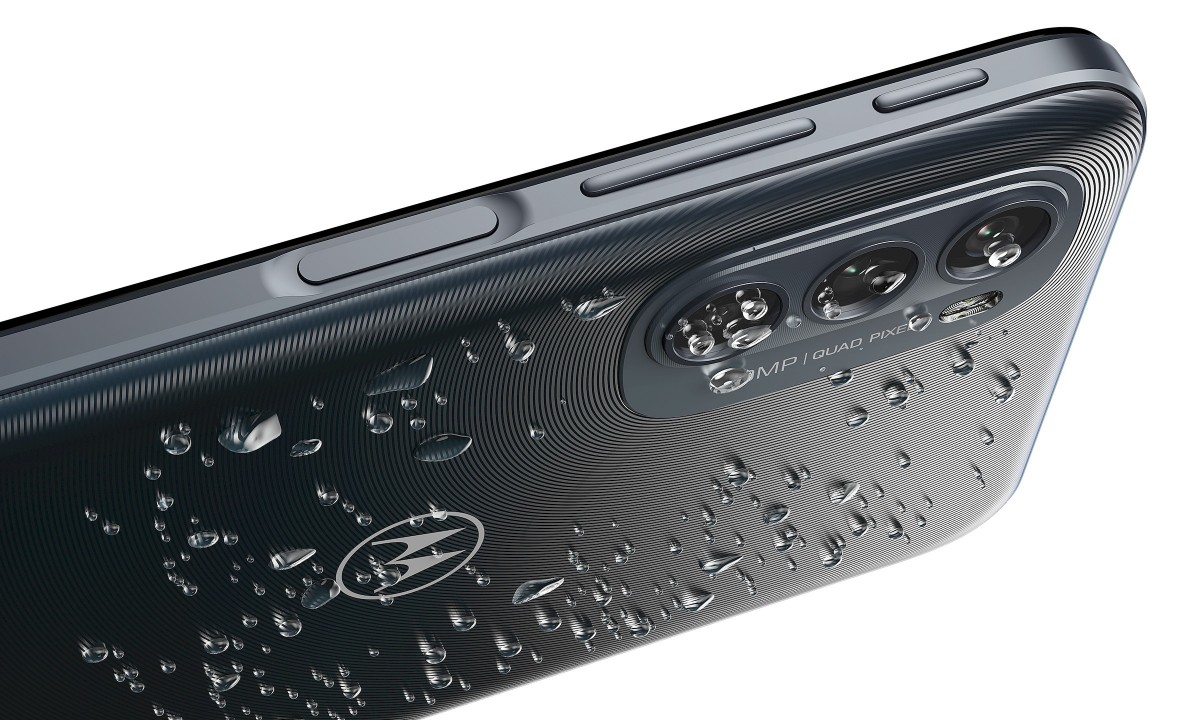 However, the camera matches the pricier G71 model with a 50MP main camera and 8MP ultra wide (1080p/30 fps video recording). On the downside, the 5,000 mAh battery is slow to charge at just 10W.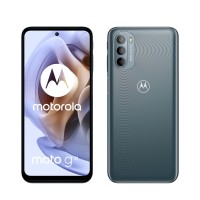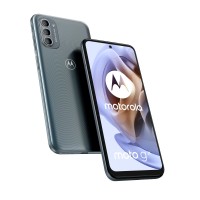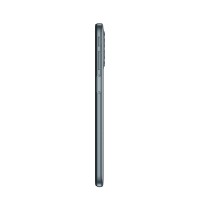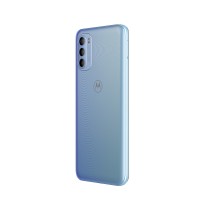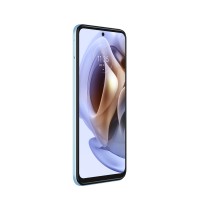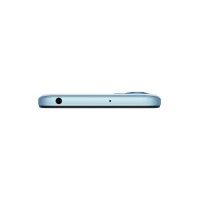 Moto G31 in Mineral Gray and Baby Blue
Then again, the Motorola Moto G31 costs €200, making it the cheapest of the bunch. You will be able to find it in Europe in a few weeks, along with India, Latin America, the Middle East and Asia.
S
They don't call this a flagship, use your brain and basic comprehension skills, huh?
R
Why is Motorola's custom ROM community so dead these days ? They don't release kernel sources etc?
ADVERTISEMENT