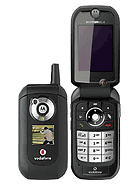 s
This mobile isn't bad, just too bad it's Vodafoned. I must admit, Vodafone always grabs the best mobiles, all mine are Vodafone branded. But features suffer greatly under the Red SIM.
So anyway, this fone looks quite nice, though I'm always in doubt of the MOTO Cameras. 1.3 MPx with such a small lense can't be decent. Either you make some room for the lense and leave the other crap (what's that big metal circle for???)or you just don't try so hard.

The camera on the MPx220 was a huge disappointment, and on most other V-Phones it's just as bad.


m
this mobile is wicked and trust me u would want 2 get it. the camera is amazing and the screen is quiet big. it wicked i love this mobile.
P
The actual screen resolution of this terminal is 240x320 pixels and not 176x220 as announced in here! Keep the good work :)
D
I think it is a cool 3G phone with a big color display and good camera. Speaker phone is clear aswell
z
I hope these new phones would be available hea in Hawaii, U know us guyz are kinda behin da time but hey at least we tryin man!!!
U
Um dunno how you can compare this phone to the 6230i thats just a normal gsm phone and this is a 3G one it really makes no sense to me sorry but yeah it could have been better
Total of 332 user reviews and opinions for Motorola V1050.