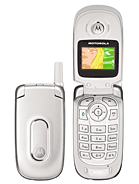 l
i just bought my phone and after that i saw that it can only record 10 sms! fuc*ing* telephone! i'm going to throw this piece of sh*t to the garbage this worth nothing! we can say its a very good telephone...
C
This is an excellent and sturdy very basic cellphone. That is what it is intended to be and that is what you get. No frills - just a good telephone.

My only negative comment is that the graphics are a little juvenile - especailly the open/animations. I haven't been able to figure out how to shut them off yet.

The english manual is availble here:

http://www.motorola.com.hk/eng/motomobile/
y
it is 67 EUR by voda (pre p), but it is a piece of s...., anyway...its only can used as a phone.
S
I purchased this phone over a Nokia 2600 and a Sony E J200 after it was demonstrated to me and for $130 with credit ya cant go wrong!!
P
this is good! i like this!!!!! this is good!!! this is good! this is good! tjis is good! this is good!!!
t
i quite like this phone
but i wish the screen was bigger! and there was a screen on the outside - not a biggy but i wish there was on
but otherwise i really like it, for anyone who has bought this phone in australia, have you had any trouble with it?
J
Please, send me by e-mail a manual of the cell phone motorola V171 in Portuguese. If it is impossible, send me it in English so. Thank you. I'm brazilian.
a
Really a good fone.Its price is very much reasonable.The first day I saw it I was impressed and buy it.
V
From what i've seen, i don't really like it, a v180 is a far better phone, decent screen, it looks nice. I saw a v150 once and the screen is very, very small, plus no external screen, i wouldn't buy this phone unless i received it as a gift, and maybe not even then.
Total of 213 user reviews and opinions for Motorola V171.