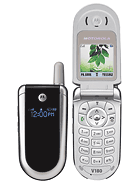 J
well i used to read all these reviews on products and thought well there are only bad comments about these phones cuz who wants to take the time to write about something that they're perfectly happy with. well i was wrong! i bought this phone and within the first month the sceen kept craping out and disconecting my calls. I was soo happy cuz i would still get charged for a minute cuz it would connect for all on one second. so needless to say if you read this please consider any other phone. its made of cheap plastic that has way to much flex and the screen sucks. i would much rather have a phone that worked then a phone that looked cool but is total crap. so if you read this please dont be like me and say ohh well it doesnt have taht many bad reviews. just go for something else and it will save you alot of time and money in the long run

B
This looks just like the V180 which I have. I am not at all pleased with it. I have complained to the company. I cannot use it at all in large buildings, it just will not connect. If I am in the Mall or even in WalMart I have to go to the outside door and use it. I think this phone is a big rip-off. I would love to have my Nokia back, which I am working on.
L
I had a V180 and I started hearing static in the phone when I was on a call. Everyone I talked to said they heard it too. I charged up my old Nokia 3595 and put the sim chip in and have been usinf it for the last two months. tha V180 only laster 3 weeks and I never dropped it once.what a peice of crap.
M
Well i like this phone, my friend has one like it but how much does it cost???
M
This LOOKS like the V180, however, Motorola appears to be producing a sister to the V180 [this V186] that sports EDGE. The V180 does not.
j
The name is v180, I already have it and it works very well, the only one problem is that the stamp is listened very down and is grated by facility, the rest of the problems that I have owe to the bad service of cellular telephony in Argentine
Total of 51 user reviews and opinions for Motorola V186.