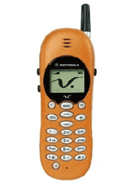 a
I'm from Holland and I like the v2288 very much, but I can't find any ringtones
on the Internet. So if anybody knows where I can find some please e-mail me
and send the ringtone codes or tell me on wich site I can find them.
Thanks
R
It's an excrellent phone. Clock, alarm clock, WAP browser with bookmarks, FM, everyhing. Great deal!

H
Your information on the site is wrong:
v2288 HAS clock and alarm!!!
r
i have the v.2288 on bt cellnet and it does have the ring tone editor games clock and alarm i don't think that the 121 and orange versions do though. does any one know if you can get logos for it?
It's a brilliant phone
G
I think that the Motorola V2288 is great, the only complaint that i have is that it doesn't have a ringtone editor, and therefore most sites don't do ringtones via SMS to it. If anyone knows where to get any, PLEEEEEEEEEEEEEEEEEAAAAAAAAAAAAAAAAASE e-mail me and tell me the site or send them directly to my phone, my number is 07890075975
s
the v2288 is great but is there any way of puting good ringtones on it. if so how?
r
still have not found out if you can get ringtones or logos for this mobile phone!!
but apart from that, this phone is a good first time buy!
J
An absoluty brilliant little phone which does have games on it and make your own ringtone buy this phone now
D
I want to complain. My BTCellnet V2288 has 3 games,an alarm clock,clock and calculater
Total of 135 user reviews and opinions for Motorola V2288.