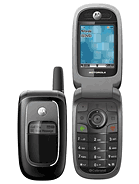 K
I only got this phone yesterday as a christmas present and i must say i am extremely impressed. The picture quality is pretty good and it's a very compact and simple. It's also a nice size for texting. Overall a great phone!!!
A
I think it is a real fine design for our time, I mean, now a days all new phones features gadges that problably noone will ever use, and turns complicated the main function of the device: to be comunicated, of course is cool to have a Camera inbuild, and Mp3/mp4 player, and Memory slot, but, some times this features turn our phone in a complicated device to handle.
?
You can get practically the same with the V195 and drop the external antenna stub.
R
I think this phone would be great for people who don't need a cam but want MP3s or AACs as ringtones, for men in their 20s 30s. I hope to see this phone soon with an affordable price. The less it will cost the more will be sold. A good alternative for those who have a digital camera already ;)
G
Finally... a great, simple, nice looking phone. Some just don't want a camera but still want a nice phone. Compare it to owning a nice Bentley GT. Some like it stock, some like it with the big rims and sound system. Either way, still nice.
G
It appears it says Cobrand. Not camera. This is a good phone for people who work at companies in which a camera phone is not allowed. There are a lot of companies that don't allow camera phones on their property.
Total of 9 user reviews and opinions for Motorola V230.