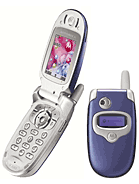 g
can you get more than 5mb memory on this phone by using memory cards or something like that? email me if u know please.
T
I think that the Motorola V300, looks great! I can't wait for it to come out in England- I will be one of the firt buyers!
j
This phone is very inexpensive for its fetures, its £160 on t-mobile pay and go in the uk, its due out in 3weeks from date of post, MOTOROLA ARE FINALY MAKING PHONES AS GOOD AS THEY LOOK! :)
M
The phone is tri-band which is good. The integrated cam is awesome and the scratch resistant face is a plus. I say Motorola is moving on up and the product should sell itself!
M
i like very much all motorola phones.But motorola v300 is the best.i think is very expensive and i can't buy.
L
Orange UK have a new contract with Motorola and the V600,V500,V300 will be ORANGE only phones and come out in September!
Total of 392 user reviews and opinions for Motorola V300.