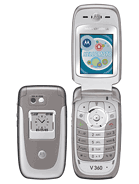 M
Ice Man don't you understand it??? It's like you want 50 phones of the same brand with the same features it just can't happen. i have had over 10 different motorola's and i loved them all more than any samsung or nokia i've had in the past
greetz
o
its ok but i like the samsung E730 so much better cause yeah it has better things on it and it looks 10x's better. i like the idea of havin an analoge clock on the outside though. it makes the phone look more fancy and new but yeah not my type. cyas
N
Is a good phone, nice battery life. Don't mention anything about sound. Motorola has some of the best screens and sound on the market. All new nokia phones and samsung phones have the sound distorsioned after only 2 weeks of use. Plus my Samsung E700's screen is goind white. I'm affraid that after one year I have to replace it. I will never again buy Samsung. I have to think more about nokia. If I find something from nokia that has a strong cover, and good sound then I will have 2 competitors... till then GOGO MOTOROLA !!
B
This phone rocks! It has a speaker that works great. The video capture is the best thing about the phone it can record up to 30 sec and more. The memory is great i have so many mp3 ringers and this phone has bluetooth. overall i give this phone a 9.5.
F
Its a great phone but the pitchures aren't that good thats all im saying.
I
well...what can i say...motorola did it again...another disappointment...well to me anyway...
look at this...compare this to all those other companies...VGA camera? common motorola...and only 24 voices for the polyphonic ringer? whaz up with that...o wiat...its not whaz up its the # of voices are down...yea...ok...and even though this phone has a trans-flash memory card slot...y is there still on 5 mesily megabytes present?
motorola is fallin back in standard man!!!
and u wanna know sumtin...i know this is obvious but i gotz to say it...about half of mmotorola's phones dont perform or function wwell...blue tooth stops workin as the RAZR's case...a fully charged battery discharged itself in like 1 hour or less...problems eestablishing a connection when answering a ccall as in the e380's case...and the list goes on...o and did i mention that motorola phones dont pick up service as well as other companies like samsung or nokia or even sony ericsson...welll...i hope this helps u all...and if any of u feel offended...dont cuz these are the bear facts!
o and i would like to reply to deam...if u dont see the OS specified...know that its th OS made by the manufactures...ok
well
laterzzz all
have yall!!!
B
This fone is pretty sthweet, fo shizzle my azzle! y doesnt this website tell u da darn price on da darn fone!!!!!!!
anyone?

peace out homies

T
It's so great. I like it. when does it come to China and how much is it?
Total of 1351 user reviews and opinions for Motorola V360.