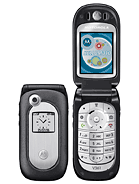 ?
i had these phone for more than 4 years. i thought its v365,but when i found it here,its v361??? i had it repaired once,the repairman had a hard time looking for parts,cause the label and the phone do not match..
m
my company bought these for the field employees. actually the box and manual have it labeled as the V365 but it is identical to this one, i dunno what the discrepancy is...

i have always bought nokias for personal use and i probably always will. after using them for over 10 years, i find pretty much all other brands difficult to learn, especially motorola! not only do you have to learn new methods of texting and navigating menus, you have to learn a whole new vocabulary of vague terms (dial from phone, talk then fax???). it took me 2 weeks to figure out how to program speed dial, the instruction book is WRONG. i am not making that up, it is dead wrong! it is a very complicated process involving many steps and unclear button combinations.

this phone is huge. the battery life is ok, one would think it would be better for such a huge phone with a huge battery. it isn't as easy to open as most flip phones i've used, other manufacturers usually put a nice groove for you to stick your fingertip into and flip open, but not motorola. the charging port is on the side, very annoying when trying to talk while it's charging.

as a company phone, it is used 99% for voice, very little texting or anything else. i guess it functions just fine for that. i wouldn't mind adding a memory card to have a few songs on it. FEW being the operative word, it only supports up to 512MB microSD cards? what is that, like 40 songs? oh and if you want to transfer files to/from the phone to a PC, you have to buy the $50 software. what a deal!

i'll stick with nokia...
?
I've had this phone for nearly 2 years and on the whole, its been fantastic. I've never had any issues with battery life etc. The only complaint I would have is regarding the reception. As someone previously mentioned, it wasn't an issue with the signal strength but rather a strange buzzing sound like you were standing next to a computer or something. Other then that, this is the best phone I have owned.
M
I had an old Motorola flip phone which had great reception so I thought I'd try another. Big mistake. The reception on this phone was poor in comparison to all of my previous phones. I would frequently get buzzing sound and friends would always complain about the quality when talking to me.
M
V360 is that T-Mobile USA "Quad-Band" version of the V361. Hope that answers your query...
m
hey all, ive had this phone for almost a year, its given me a few troubles though. the phone had glitched and screwed up my card and i had to get it replaced... thats bout it actualy... its a great phone though, bluetooth, expandable memory... its the only motorola\flip\expandable memory and blue tooth under 200 last time i checked. its 100 dollars a year ago, but its not avaliable now. need help with something contact me yenaledtam@hotmail.com
?
this phones specs sound very good...but why only 5mb shared memory?
Total of 9 user reviews and opinions for Motorola V361.