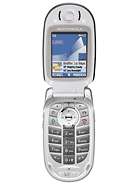 k
i would not recoment this phone i think its crap and i have had many problems with it an have taken it back to the shop many times too
A
I really would not reccomend this phone to anyone.Let me start off saying It was a regular Monday when I got the phone..I charged it like it said.Finally i thought time to have some fun!I went to school the next day took pictures of all my friends got numbers the usuall.After bought some ringtones.I turned it off for a minute because battery life was low.When I turned it on it said memory recaal delete.i quickly tried to stop it from deleting but it wouldnt.I was really bout to curse out a motorola empolye.I called motorola and they told me some steps which did not work.So they sent me the v400 which did the same thing.Now im on the v600 and it aint giving me no trouble.If i would rate this V557 it would be 1-2 a 2.
g
Coming Soon...

2 answer your question the phone is out.It dose have 1min recoeding but it is very blury but wat u exepcet it aint no video camera.Reppin Brooklyn!
T
this motorola phone is hot.The features is hot but i can see what everybody id=s saying about the text messages.Other then that this phone was fire but now im considrin a nextel 870 0r a mototrola v600 those my phones.other then that i would reccomend this phone to anybody.
t
Why does motorola v550 doese not appear in the motorola section or in enny other section,who can tell me somthing about motorola v550.10x
T
This phone is great you should get it its kinda pricy but a perfect phone
?
s/he might have judged by a different phone model. Or s/he might be a phone reviewer
C
this phone is not out in the market so how do you know this phone is just 1 min. video recording??? and how did you know that this phone is not clear??
s
this fone is alrite but the mp3 player is most less because you can only download 1 song
M
V557 is good when it comes to calling features... it's so clear when you are calling abroad. The design is good, the downside is that after a week of using V557, text input just hanged-up and i can't send text messages anymore, i can't even save a name or a phone number, the program was easily corrupted, and i can't use it anymore... The video is only a minute and is not clear.
?
That person is horrible. He lacks all performance especially looks!! never go out with that person!


Total of 94 user reviews and opinions for Motorola V557.