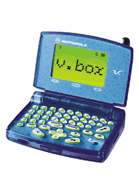 k
When i turn on my motorola v100 it asks for an 8 digit special code i think it's a standard code that's in the manual but i lost it so if any one knows it please!!!!!!!!!!!! email it to me. thanx
k
pls give me this phone my credit card number is 7778998746555 my name is Ivailo Malinov-Kozy my street adress is Bankya Bulgaria street Moskva 26a
j
i am a owner of the v.box and the memory for missed and recieved calls is 10. i have also had trouble finding ringtones to enter as the instruction book is incorrect and motorola have been no help even though i have rung them several times. i have found 2 site that have the ring tones but the call will cost about £4.50 nd im not paying that amount everytime i want to update a ringtone.
R
the phones only let down is that you have to connect the headset every time you use the phone
H
Is this really so cool? Maybe Ericsson Chatboard is better SMS solution.
S
This is an excellent phone, and it really annoys other people when you can tap out an SMS in seconds while it takes other people five to ten minutes. A recommended addition, though, is the Retractable headset available from www.motorola.co.uk or motorola.com and similar sites. Unless you're prepared to wear the headset all the time, you can miss a call very easily with the supplied headset when the phone rings because you've got to spend time unpacking and untangling the earphone. The retractable headset solves this problem and enables you to keep the headset ready for use on your belt next to your v.box. The official site for this phone is www.xtremetxt.com, but frankly that's a waste of time (though you can get yourself a free text messaging book from there, which is rather funny). Though ringtone sites are in short supply at the moment, the ringtone editor is exactly the same as all the other Motorola phones and so any key combinations to tap out a tune on them will also work with the v.box. If you want to know a little more about the phone before you commit, go to motorola.co.uk, look in the Support section, Manuals, and download the PDF manual for the phone, which gives a good idea of how it works. It takes time to get used to, but I wouldn't have any other phone.
s
i honestly regret buying this phone.i cannot even download logos and ringtones from the internet as in other phones esp NOKIA.if u have a solution pls mail me thanks a lot
D
The v100 is awkward to use at first. Once you're familiar with the feel of it, and the feel of keypresses, its great for sending sms's. Be warned, tho, you NEED to use the handsfree kit to make/receive calls. Best for someone who mainly sms's. Also, the motorola ringtone composer is awkward, the instructions lacking, and I have yet to find any decent ring tones online (contrary to the statements made by the instruction manual).
j
im tring to find a site that doed free ringtones to a motorola v100 can u help?
a
Why is the data link to a computer, not sold as an accessory. This will make it the ultimate gadget.

Ade
Total of 175 user reviews and opinions for Motorola V.box(V100).