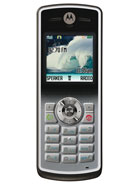 ?
this unit can download music and wallpapers or screensavers? if they!! hw can i from computer?? thank u
n
yes its true you have to switch every time for deleivery report in moto also in mid range devices you can not record conversation. one thing i would like to share that moto people do not beleive in feed back for upgradation and these small small thing are making them performing very poor.and day is not very far when one of our indian brand will capture this brand.
X
Good for texting and all that

Design 3/10
Features 2/10
Usability 4/10 only good for texting.
b
you guys are idiots, why would a phone company make every phone the best phone, with every feature and a super camera? not everyone wants an 80 mp camera and a 20" touch screen
?
incase you guys dont notice..

the phone (and its non-colour brother), are solely for third world country use. noticing the 7 AFRICAN and HINDI languages, i highly doubt it will be sold in most countries.

also, it doesnt have a camera and bluetooth, and all those other features as to conserve battery life.
s
I think this is very simple but very amazing like nokia 1100 . i will buy this phone because i need a second phone...and battery life is very good for long talking with my girl friend...
F
Yep, I knew since the beginning of 2005, this is the future of Motorola, so far.
B
a basic phone with bad design but having crystal talk and having good bettery time
a
can moto make some nice design and low end, like LG, low end, 3G some more nice design......
?
It's fine for what it has to be (note: African languages). Stores 750 messages, great battery and USB. You can't have it all at that price.
t
motorola should create a low end with nice design if they wanted to gain more sales afterall design is something people look forward to
Total of 75 user reviews and opinions for Motorola W181.