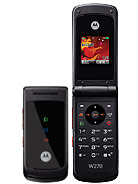 ?
it's very nice... and i can understand that it's a bugdet model... but this display is patethic!
E
Motorola made this phone to market it to African countries. That's why it's dual band GSM 900 / GSM 1800 and has 7 African languages.

The American model of this phone is more for those who want a simple yet functional phone for or those who can't afford fancy phones.

Sames goes with the Motorola W230
Total of 724 user reviews and opinions for Motorola W270.