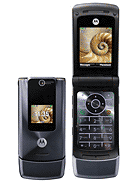 m
When will Motorola forget about USB 1.1? It's necessary to use USB 2.0 in all devices which have more than 16 MB of memory or external card...
?
I like it, if you want a phone for a camera, just get a digi cam phone's will not and cannot replace them, reminds me of the trusted v3i on with their new linux OS and not as wide, I'll be getting on to add to the collection
s
Motorola oooh motorola..., why you always so poor. actually i love you so much but why always disapoint me? why? tell me why...? hiks
n
maybe people from GSMarena.com could tell this to motorola just a suggestion, i like the design overall what i dont like is the features of this phone maybe upgrade the camera to 2Mpixel and add 3G and HSDPA add a FMradio screensize should be a littlebit bigger and most of all lower the price then maybe i would buy this phone but for now i would stick to my nokia phone which has all the features that i like.
v
Apparently Motorola is experimenting with design and options blending. Sooner or later they will hit it.......
s
is it just me...or does this fone have the exact same specs as the RAZR v3i??wats the point making 2 phones which are exactly the same with a minor diference in design?
A
There are three sad things on this phone, one no radio and 2, why didn't the phone retain the front-flashing led signals similar to w220? That could have pushed the prices down and in return fit in the radio. The screen size is also small for browsing...shame
l
great design, good lookin, but, no FM radio, what a dissapointment decision from motorola manufacturer cause im one of big fans of motorola. Lukman, desa kendal, Punung, Pacitan, Jatim.
a
when will moto grow out of this RAZAR bullcrap

get some freakin new designs and good specs for a change , like who the F@#k gives 80 sms storage capacity in 2007 , leave other luxuries like good browser user interface and battery

get lost motorola and get a life stop leeching customers with overpriced good for nothing cellphones

well that explains why moto is seen mostly wid blonds .... lolz
?
I think the phone is nice for a mid range line
I'm thinking that maybe low end will have vga cameras and mid range will have 1.3megapixel...perhaps that's what motorola is trying to achieve
But I'm pretty sure that phone will be so overpriced, at least in my country.
Motorola Rizr K1 cost 500$USD, and Sony ericsson W810 and Nokia 5300 are at 350$USD and they both bring more stuff than Rizr K1.
s
very poor indeed this is a spec of a 3year old phone, get a grip motto.
Total of 254 user reviews and opinions for Motorola W510.