More leaks have surfaced of the upcoming the Motorola X smartphone, this time regarding the software on the device, specifically the camera software.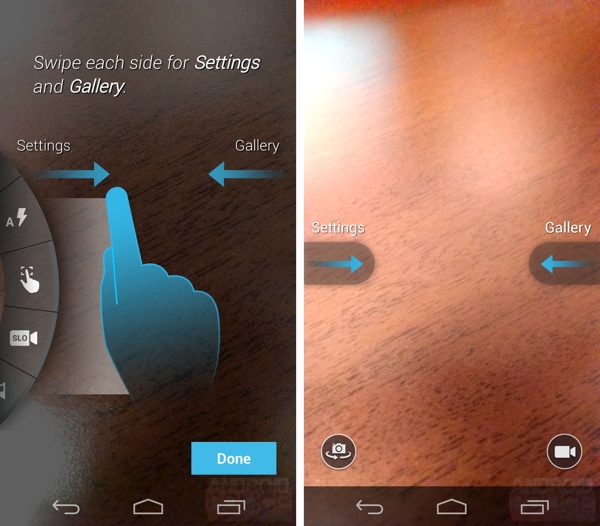 As it can be seen from these screenshots, Motorola has gone for a brand new UI for the camera application that is unlike their standard UI seen on their previous DROID phones, nor is it like the stock Android camera app.
The new camera software relies on gestures to bring up menus on screen. A swipe from the left side of the screen brings up a circular menu that reminds vaguely of controls in the stock Android browser (once you enable the Quick controls). You can seemingly turn the menu to reveal additional options. Swiping from the right takes you to the image gallery. To zoom you swipe up and down on the screen and tap to take a picture. Other than this, the UI is extremely clean and uncluttered.
Anyone expecting a completely stock Android experience on the Motorola X (with Google owning Motorola and all) would be disappointed by this but then this isn't such a bad thing as the standard camera application in stock Android is mediocre at best. It would be interesting to see what other changes have Motorola included in the software on the X.
You can find more screenshots in the link below.
D
It's Awesome camera UI feature to take Slow Motion Video
t
I use it only to make a headshot :D
ADVERTISEMENTS