We are inching closer to the official launch of the Motorola X, slated to happen on August 1. Naturally, then, a few leaks are par for the course and we have not one but two today, in the form of a leaked press image as well as leaked specifications.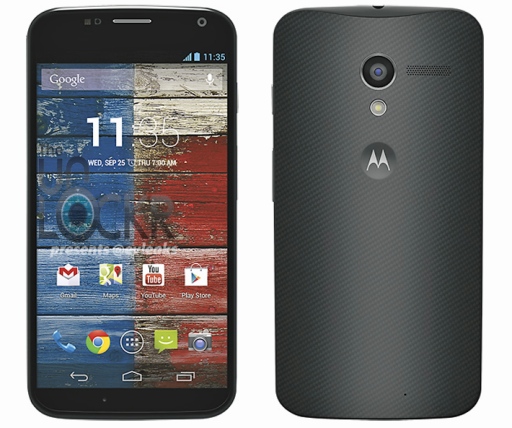 The first one comes courtesy TheUnlockr and gives us a first proper look at the device. The X is a bit of a departure from Motorola's recent designs, wherein it adopts a lot more curvaceous and understated design instead of sharp lines and more radical materials such as Kevlar for the back. The front looks very similar to the Galaxy Nexus or the Nexus 4 with it's focus on minimalism and display-centric design.
The back looks similarly sober, with a hump running vertically in the middle of the phone and a camera lens, flash and loudspeaker nestled together near the top above the Motorola logo. The back has a simple dotted pattern but from what we've heard so far you'd have the option to customize it.
Moving over to the specifications, this time courtesy Android Police, we have a Qualcomm Snapdragon MSM8960DT, with a 1.7GHz dual-core CPU and Adreno 320 GPU, 2GB of RAM, 4.7-inch, 1280 x 720 resolution display, 10.5 megapixel rear camera, 2.1 megapixel front camera, 16GB internal memory (12GB user accessible) and Android 4.2.2.
The device has been taken through a couple of benchmarks. The AnTuTu score stands at around 18-19k and 7100 in 3DMark Ice Storm Extreme tests. The scores are impressive, perhaps a bit too impressive. It's curious how the X manages to score higher than the Nexus 4 (approximately 14k and 5.8k, respectively) despite having two few CPU cores and identical GPU (Nexus 4 only has a slightly higher resolution display). Regardless of that, for what will supposedly be a mid-range device, the specs of the Motorola X are quite impressive.
This is all we know for now but with August 1 fast approaching, we wouldn't have to wait too long to find out more.
T
Hmmm, got to say, the design is innovative and nice looking, specs ok so far. Look forward to Aug1. Query though is, will the phone rock when laying on its back. if not, i think i could buy this.
D
Considering that the Nexus 4 DAC is really poor, if the DAC on this one is like the original Atrix, I'm sold. And it's looking like this will be priced at the very least, just like the Nexus 4, and most likely lower!
A
Considering that the Nexus 4 audio chip is pants, I might trade mine for this.
ADVERTISEMENT