The upcoming Motorola device known as the X Phone has surfaced yet again. @evleaks has uncovered two new images that show bits of both the front as well as the back of the device.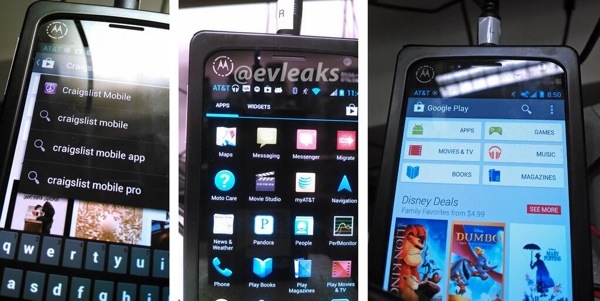 The front images show the phone placed inside a dummy case, which is usually used for phones that are yet to be announced and thus have to be hidden from the public during field testing. We can see the Motorola logo above the display (which is different on each of the three phones above) and the earpiece, which look similar to this leaked image we saw before (below).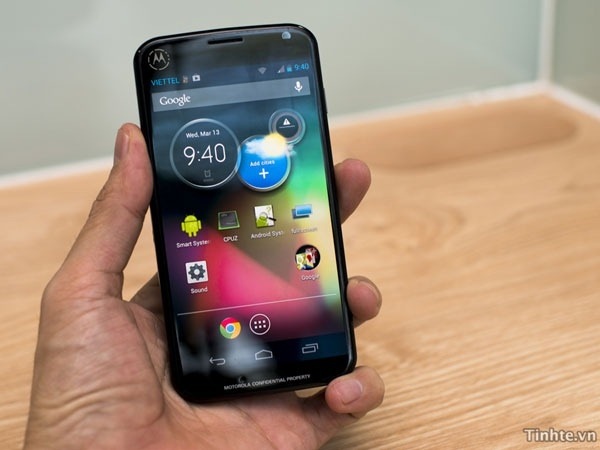 The software on the phone seems relatively stock Android, at least from the app drawer and the keyboard. Also worth noticing is the presence of the AT&T logo in the top left corner of the screen, along with the 4G LTE logo near the signal bars.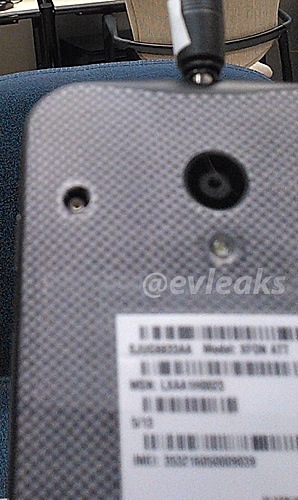 The back of the phone seems to have some sort of soft touch material that looks similar to Kevlar used on previous Motorola phones. The sticker on the back clearly says 'XFON ATT', so this definitely seems to be the X Phone everyone has been talking about, although that probably won't be the final name of the device.
As we have heard from Google before, the company is currently depleting the 18 months of pipeline that they have to drain, so any new product from Motorola won't be coming any time soon, and definitely not at this month's I/O. However, what you see above may just be ready by the time Android 5.0 is about to ship.
D
Will this device use an Intel processor? Probably? If a single hyperthreaded core as the one in the Motorola Razr i can do what it does and get dozens of reviews facing it off duals and even quads like the S3, etc. and getting such high level s...
R
Dude, just go to xda and flash that JB for ur xt910. As google has withdrawn Moto to be US exclusive.
r
im still hoping moto will release JB for my razr xt910. im from philippines.
ADVERTISEMENTS