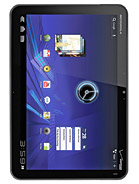 a
Part of the reason for its larger size, that some might feel as being a handful, is because of its well-equipped 10.1" capacitive display that offers plenty of real estate. Boasting a high resolution of 1280 x 800 pixels, which trumps the iPad's 1024 x 768 resolution, it presents plenty of crisp details that'll illuminate eyes all around. Not only that, but its color production is on the neutral side and doesn't fade when viewing the display at various angles. However, its maximum brightness setting doesn't seem to do the tablet justice when using it outdoors under the presence of the omnipotent sun lurking around. In terms of responsiveness, the capacitive display was more than attentive in registering all touches and gestures. And similar to its metallic exterior, the display is known to accumulate its fair share of smudges and fingerprints very easily – which requires a solid rub down with some cloth to keep it looking pristine. As much as we'd love to one day see a 10.1" Super AMOLED Plus display, the LCD display of the Motorola XOOM is highly acceptable as it still engages prying eyes from a good distance.
a
How come it has A-GPS support?, with out Ccllular network support?
Total of 243 user reviews and opinions for Motorola XOOM MZ601.