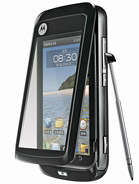 ?
Yes, it is an awesome phone, offering dual touchscreen support (finger-based touch screen while closed, pen/finger based touch screen while open. However, being an American in china and having seen it, there are two specs that need correcting:

1. The audio jack is not a standard 3.5, but a micro-usb jack, so that they could leave people with a reason to get the more affordable A1680 which has the 3.5 audio jack.

2. The colors are only black and white, with black currently available, but no grey anywhere in sight on the market.

It'll be interesting to see how this new "Ophone" stacks up against the Iphone.... I'm looking forward to good things. Great job, Moto...
Total of 21 user reviews and opinions for Motorola XT810.