Last week the first photos of Motorola Z9 leaked at the good old FCC site. These were however with the typical for the commission awful quality and provided very little details about the handset features. Luckily, today an advertising leaflet was spotted providing a lot more details about the would-be Z9.
Spotted earlier in a Motorola video ad we already reported, the new Motorola Z9 is going to come with a 2.4-inch display with QVGA resolution. The internal memory will be 45MB and it will be expandable through the microSD card slot. In addition Motorola Z9 is going to feature a 2 megapixel camera and USB v2.0 support. The phone will also sport the CrystalTalk feature, a sound enhancing feature, which can be used when making calls in noisy environments.
In the surfaced leaflet Motorola Z9 is presented in its two US variants - the first one is with quad-band GSM support and dual-band US UMTS support (850/1900 Mhz). The second one is a vanilla one with dual-band (850/1900 Mhz) GSM support and no 3G but GPRS/EDGE instead. We however suspect that there will also be a European UMTS version.




Motorola Z9 photos from FCC's website
Motorola Z9 is going to come in the slider form factor and at leas in the US it will feature A-GPS (no hardware receiver) with turn-by-turn navigation - we suppose AT&T TeleNav GPS Navigator.
The Motorola Z9 is not the most revolutionary type of handset but new Motorola models are rather rare these days so the appearance of one is worth noting.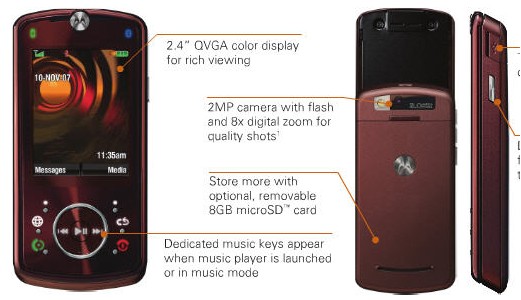 Motorola Z9
We are still waiting for the official announcement of the Z9 by Motorola itself.
s
Moto is far behind current tecnology. What a pity, because I like the Moto quality. Not sure if there will come a European version at all (already August 08 now).
M
Moto will pull out of this as they are a leader and have great ear peices. They own the market for everyone who can't afford the most expensive phones but still want innovation. Going into a reccession they might just do pretty well not having an ent...
h
To Motohaters, How much did U get paid for bashing Motorola? U guys have to face the reality that Moto is the innovator of mobile phone.Moto invented vibration and Ur brand have to pay Moto for having vibration in their phone.
ADVERTISEMENTS