Back in February this year, Motorola announced several new Moto Mods, including a GamePad Mod that converts your smartphone into a mobile gaming console by adding physical controls. Well, the add-on is now available to pre-order in US.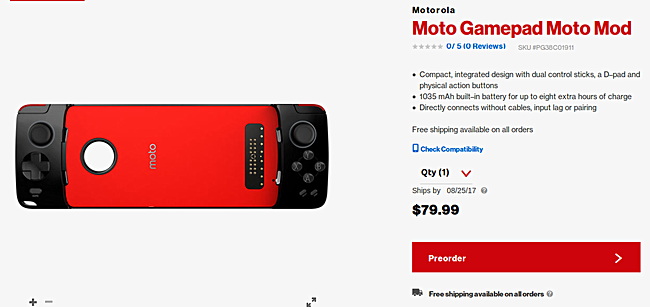 The GamePad Mod is exclusive to Verizon, which has it listed for $79.99 on its website. It's likely that sales of the device will not be restricted to Verizon customers. Anyway, shipments are scheduled to begin August 25 onwards.
t
thinnestflagshipever
2SMp
I guess the campaign is over
?
Minus Zelda: Breath of the Wild, Splatoon, Super Mario....
Where did it go? The link is no longer valid. The main problem with Moto Z Camera Lens mod is the fact it doesn't offer anything better than the phone camera itself. I believe Sony tried to do better by making a camera lens + sensor package th...