Motorola's MotoMods help out in zombie apocalypse and catching thieves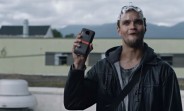 Lenovo has published a couple of video ads for its MotoMods accessory backs for the Moto Z family of smartphones. Technically, it's four videos - each ad gets a short and a long version (the long, 1-minute ones are featured here).
In the first one, a police chase is about to end with the suspect escaping, when the officer calls it quits on a building rooftop. And just when you thought it would be the power bank MotoMod that would somehow be involved in the resolution, the JBL SoundBoost comes to the rescue, because who doesn't prefer to run after criminals to the tune of music.
In the next video it's the dreaded zombie apocalypse that a couple is faced with. Apparently, zombies are fans of cats just like everyone on the internet, so it's only a matter of projecting a cute cat video on the nearest wall to ward off an attack. That $300 InstaShare projector MotoMod doesn't look as overpriced now, does it. (Yes, it still does.)
D
The thing is, the videos also ironically highlight how useless they are for the average person, and ultimately show that most people wouldn't use them.
D
Lol at that zombie trying to esc the ads XD
C
Just because the situation is not real does not mean that the product is not gonna success. What I feel about they wanted to achieve with this ads is make you understand that you can use this moto mods as you wish. Beyond the features that these mot...