MWC booth
Now that we have the Unpacked event covered, we moved to the Samsung booth at the MWC to check out their other new announcements. The number isn't as high as in previous years but there are still several devices that deserve attention.
Samsung S8500 Wave
We also got a chance to get to know the Samsung S8500 Wave better the following day at the Samsung booth. There isn't much more we can tell you at this stage about the interface and performance but since we were allowed to take it off the premises we have a bunch of new samples from its camera.





Samsung S8500 Wave in the wild
The camera software (and probably hardware) is still far from complete so what you see here should be easily beaten by a final retail unit. Dramatic improvements in still images are likely, it would be a surprise if a company of such great record in imaging to disappoint with their most important project.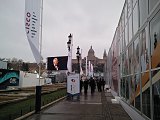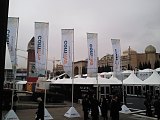 Samsung S8500 Wave camera samples
The video is a whole different story of course. Samsung Omnia HD was off to a flying start but didn't quite get all the ends tied in the end. We are now hoping the Samsung S8500 Wave does better and deliver proper 24 frames per second.

Samsung S8500 Wave sample video
We also put together a short video demo of the Samsung S8500 Wave interface to give you an idea of its speed mostly. It's impressive stuff, considering the phone has a lot of polish to go through before official release.