Motorola
Motorola are by no means a minor manufacturer but they've been through some hard times in the past few years. They've been on the rise lately releasing new high-end devices and Android obviously is their primary bet for survival (and prosperity, as well).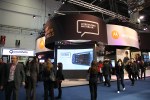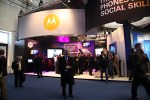 The Motorola booth at the MWC 2010
Today at the MWC 2010 they present their next Android device - the Motorola QUENCH. Called CLIQ XT in the US, this new smartphone updates the existing Motorola DEXT (a.k.a. CLIQ) as a qwerty-less version.





Motorola QUENCH (CLIQ XT in US) was previously codenamed as Zeppelin)
In reality the Motorola QUENCH is a pretty nice looking device, with the back feeling particularly great to touch. Its Android runs smooth without any hiccups but that was to be expected, considering its expected release date (later this month).
The MOTOBLUR interface is pretty cool actually and the capacitive touchscreen behaves just as expected. You can check them out in the video below.
Here at the MWC 2010 we also see the strange Motorola BACKFLIP for the first time.
Motorola XT720 (previously codenamed as Sholes tablet) packs an 8 megapixel camera with a xenon flash and 720p video recording. It's an impressive smartphone in its own right, but unfortunately it won't make it outside Korea for now.





Motorola XT720 is a Korea-only device running Android
We saw another Motorola Android smartphone at the Motorola booth. It was the dual mode Motorola XT800. It's a China-only phone.