HTC Incredible S
The HTC Incredible S has a 4" WVGA screen and packs an 8MP camera with dual-LED flash and 720p video capture. After that start you might find some of its other specs a bit underwhelming - it will launch with Android 2.2 Froyo and a single-core 1GHz CPU.





HTC Incredible S hands-on photos
In its nature, the HTC Incredible S is a minor update to the Verizon-bound HTC Droid Incredible. You get the new generation Snapdragon chipset inside, the more powerful Adreno 205 GPU and some extra RAM inside an identically looking shell.
And while we have to admit that we were envied our American friends for being the only ones to get the Droid Incredible at the time, we are not particularly confident of the Incredible S prospects right now.
With dual-core Gingerbread-running smartphones with 1GB of RAM just around the corner, the HTC flagship is decidedly looking uncompetitive. Of course the Incredible S might become a hot deal if HTC fit it with a price-tag that suits its new position in the pecking order. Here's hoping!
Oh and the HTC Incredible S can do an amazing trick - rotate the capacitive keys so they match the orientation of the display!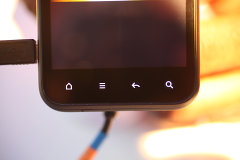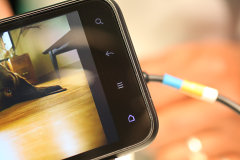 Rotating keys on the HTC Incredible S
HTC Desire S
The HTC Desire S has an aluminum unibody and a 3.7" WVGA screen. Its camera is just a 5MP snapper but can record 720p video too. It packs a 1GHz processor and will launch with Android 2.3 Gingerbread.
"Here's an idea: Take the best and make it better" is the slogan sitting on top of the HTC Desire S promo materials. And in theory that's how it should have worked.
However, once again, the update from Froyo to Gingerbread, slightly more RAM and a bit better GPU don't seem to be enough to bring a year-old handset back to the top. And yes we do like the new design better, but changes are quite subtle there too.
HTC Wildfire S
The HTC Wildfire S has a 3.2" HVGA screen, 600MHz CPU and 512MB RAM. It will launch with Android 2.3 Gingerbread too, which just embarrasses the Incredible S.





HTC Wildfire S hands-on photos
In fact the HTC Wildfire S is the only one of the S trio that we find to be a worthy update. The vital resolution increase, combined with the shrinking of the body and the slightly improved processing power make the Wildfire S a very decent lower mid-range handset.
After the disastrous QVGA screen mounted on the original Wildfire, seeing the HVGA on the Wildfire S is really a joy to our eyes.
The interface of the new Wildfire also seemed perfectly smooth and the Sense UI adds quite a lot to its usability. Very good marks for the little fella!