LG Optimus Pad
The 8.9" LG Optimus Pad is an Android 3.0 Honeycomb-running tablet powered by a Tegra 2 chipset, featuring a dual-core 1GHz CPU. The slate also hops on the 3D train but gets off at "creating content" station. The 1280x768 pixel screen is only capable of displaying 3D content if you wear anaglyph glasses and that's a thing almost every display can do,





LG Optimus Pad hands-on photos
The two cameras on the back still allow 3D stills and videos to be captured. You can then use the HDMI port to stream those to your HDTV or 3DTV.
During the press conference the LG speakers took their sweet time mocking the tablets with screens larger or smaller than the 8.9" they chose for the Optimus Pad. According to them any other screen size is going to result in either reduced usability or excessive weight. Now we wouldn't go as far as to say that one size should fit all in tablets. But we are willing to give the Optimus Pad good points on handling.





The marvelously slim profiles of the device
Grabbing the device with one hand is possible, though not always comfortable and if you hold its two sides your thumbs will almost be able to meet halfway.
We also got a close look at a carrying case that will be available as an accessory for the Optimus Pad. It's really nice and has a hole for the 3D cameras. The ports are easily accessible too.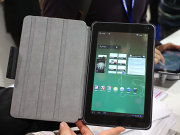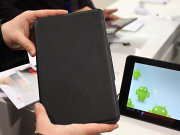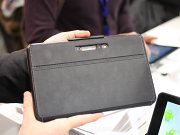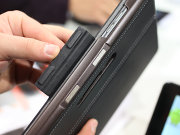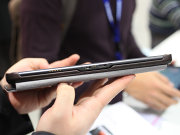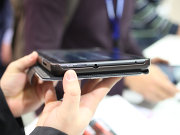 The LG Optimus Pad in a snazzy carrying case
Finally we did a UI demo video for you so you can check out the Optimus Pad performance. We'd say it's pretty great for a pre-release unit. Plus we are really starting to get fond of Android 3.0.