Samsung Galaxy Tab 10.1 first look
The new Galaxy Tab 10.1 has a bigger screen with a greater resolution of 1280x800. The battery's bigger too, at 6850 mAh, instead of 4000.
Android 3.0 Honeycomb comes preinstalled and the UI really looks more mature.
Stereo speakers on the new tablet are a clear sign this bad boy has multimedia pedigree, written all over it.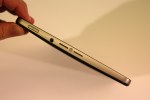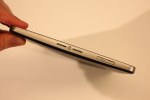 The Samsung Galaxy Tab 10.1 sides
The Galaxy Tab 10.1 has really been upgraded in the imaging department as well. It features an 8 megapixel camera on the back and 2 megapixel camera on the front of the tab. The one on the backside has HD video capabilities.
Unfortunately, the Tab 10.1 is not capable of making phone calls, despite the fact that it has a SIM card slot. It's used for 3G data connection only. The Tab 10.1 can be used to handle calls from your phone via Bluetooth, though - just like a hands-free kit.
Rumors have it that the Galaxy Tab 10.1 is powered by a Tegra 2 platform. At 10.9mm thickness, it's really thin and its weight is reasonable at 599g weight (the iPad Wi-Fi+3G weighs 730 g as a comparison).
The second encounter
We also managed to get a Samsung Galaxy Tab 10.1 from the Samsung booth at the MWC so we could spend some extra time with it. That second encounter allowed us to give you another portion of live images, a video demo of the UI and some camera samples.





Samsung Galaxy Tab 10.1 at the MWC
The Galaxy Tab 10.1 might be more than 100 lighter than the iPad but it's still pretty hard to hold it with one hand. Using tablets that big is way more comfortable when you place them on a table.





Samsung Galaxy Tab 10.1 at the MWC
The build quality of the slate seems great and the feel of the backplate is just great.





Samsung Galaxy Tab 10.1 at the MWC
And here's a brief walkaround of the new Android 3.0 Honeycomb platform. We have to remind you that we are still dealing with an early prototype so some bugs and freezes are to be expected.
Finally for the promised camera samples. We've got a couple of 8 megapixel snaps for you...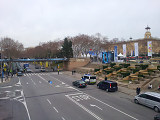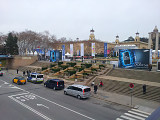 Samsung Galaxy Tab 10.1 video samples
...as well as a 720p video sample.