Press conference
Sony Ericsson kept its tradition of holding a press event right before the start of MWC and doing its announcement business there. This year we got the Android-running XPERIA Neo and XPERIA Pro, plus the full specifications of the gaming-centered XPERIA Play. The XPERIA Arc also made it on some of the slides, even though its official announcement came more than a month ago.




Photos from the Sony Ericsson MWC event
We pretty much knew what to expect way before the event with previews of all newly announced handsets spreading online like wildfire. As we anticipated the side-sliding XPERIA Play was the star of the show, while the other two headed for the lower market segments.
Many of the Sony Ericsson partners also appeared on stage, praising the XPERIA Play gaming potential and declaring their support for the project.
By the way all three new devices run Gingerbread, which comes to show that Sony Ericsson has learned a valuable lesson with its X10 flagship last year. Now they are going for the latest and greatest that the Google OS offers even if that means dropping a few of their home-backed apps.




Photos from the Sony Ericsson MWC event
Probably the most surprising part of the event was the announced partnership between Sony Ericsson and Verizon. The CDMA-loving US carrier get the XPERIA Play, somewhere in April.


The Verizon deal came as a shock to many
Some other markets will be luckier though, getting the new Sony Ericsson as early as next month.
Sony Ericsson also used the occasion to remind us all once again that their goal is to become the number 1 Android manufacturer in the world and the newly announced handsets are just another step towards completing the plan.
Well at least you can't blame them for lack of ambition.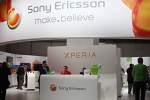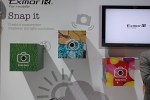 Sony Ericsson Booth at the MWC 2011
And now for the really interesting part – the hands-on photos of the new handsets. We are starting with the XPERIA Play right after the jump.
D
I own this phone from Fido(Canada) as soon as it was released, now that's my 1st Android so basically i'm disappointed of both!!! The goods: screen, music sound quality, keyboard. The bad: battery: not even close to one day. There is NO m...
D
Sony Ericsson Xperia Pro (SE Iyokan) MK16i has already been released for quite some time now, some countries even for as long as three (3) full months ago. So what will it take for you to make a decent review and comparison about it? We'd like to kno...
a
i love SE!it is so good!best:)