Sonim
We love the next manufacturer for two reasons - it knows how to make a durable phone and its presentations are always incredibly cool.
Sonim is a company dedicated to building phones that have the strength to survive almost any disaster. Sonim XP3300 Force is the latest addition to the company's lineup of survivors and it promises even greater durability than its predecessors.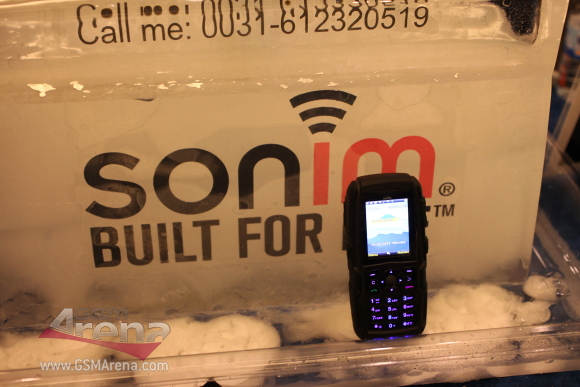 The 185-grams Sonim XP3300 Force features a 2-inch QVGA bright display, GPS with A-GPS support, 2 megapixel camera, FM radio, 3.5mm audio jack and microSD card slot. Sonim claims its GPS lock is the fastest in the cellphone world. The XP3300 Force comes with a huge 1750 mAh battery, which should give you 22 hours of talk time (Sonim says that's a world record) or 800 hours in stand-by mode. Quite impressive, right?
The XP3300 Force is MIL-810G certified for salt, fog, humidity and shock resistance (up to 4G). It also meets the IP-68 certification, which means that it can stay submerged in up to 2 meter-deep water for one hour. The XP3300 would survive 2 meter drops on concrete, vibrations from 5 to 500Hz and exposure to extreme temperatures (from -20 to 55 degrees Celsius).





Frozen, but perfectly working Sonim XP3300
The XP3300 Force uses hardened rubber molded to Fiberglass casing. Its display is covered with the shock and scratch resistant Gorilla Glass.





Sonim XP3300 taking an antifreeze bath
The handset comes with a three-year international warranty that covers all kinds of accidental damage. So, barring using a power tool to destroy your phone on purpose, everything is covered.



The Sonim XP3300 remains fully operational even when cemented
And we can assure you the XP3300 Force is even more impressive in flesh than it sounds. The guys from Sonim did so many things to the phone, that we lost count in the first half an hour. There were deeply frozen and cemented units that kept ringing all the time, hammering nails test, antifreeze baths and of course - the countless drops on concrete. All the units looked scratch-free and in full working order after four hours of these tortures.
As you could probably sense we are really impressed with the XP3300 and we're already looking forward to seeing the Sonim announcement next year. And we hope we will get an XP3300 Force unit when it hits the shelves so we can do some more of those torture tests.