Alcatel A5 LED hands-on
The A5 LED is the top-specced one of this Alcatel bunch, but even so it won't be topping any benchmark charts with its MT6753 chip and 2 gigs of RAM. It's got a neat trick up its sleeve though - it's got an LED-equipped back cover.
The 4x9 array of RGB LEDs is controlled by an app and can can be set up to light up for notifications, or just flicker one of a number of pre-set dynamic effects. It's an entire light show, not just a static on/off type of thing. Additionally, you can have the LEDs perform a show based on the music you're listening.
It's not a one-trick pony, the A5 LED. You see, the LEDs are part of the back cover, and there are other interchangeable covers which bring different functionality (or should we drop the 'different' there?). Think MotoMods, minus the magnets - the covers here rely on low tech, but positively reassuring plastic clips, quite like the back panels all phones used to have before everyone started sealing the batteries inside the body.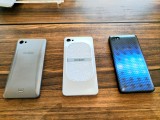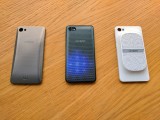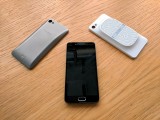 Don't call them Mods, but that's pretty much what they are
There is a battery pack cover adding precious milliamp hours to the 2,800mAh built-in capacity. It's got a push-button with a 3-LED charge indicator.
The other cover we got to see packs a speaker in an admittedly rather oddly shaped body that's not too comfortable to carry around at all times, but hey - it can pump out more decibels than a tiny in-phone speaker. It's also got a kickstand.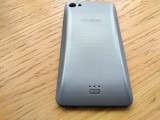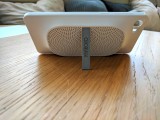 Battery pack cover • Speaker cover with kickstand extended
Mind you, there are also plain covers - no LEDs, no battery, no nothing, just a panel to cover up the back. You can tell by the absence of photos of those that we didn't find them particularly interesting.
Looking at its front the Alcatel A5 LED is a rather unassuming black tile of a phone, but you can't expect it to be one-of-a-kind front and back. If we have to point something out, it's that the display is a touch too reflective.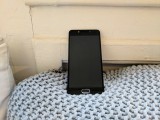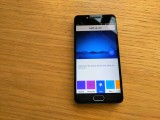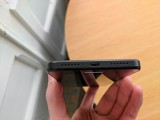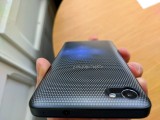 Alcatel A5 LED from different angles
Alcatel A3 hands-on
The Alcatel A3 is a notch below the A5 LED in the lineup, yet it offers a higher-res camera and a fingerprint sensor on its back. It also looks pretty sleek, as long as you keep the display turned off. Light it up though - that's one huge black bezel.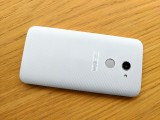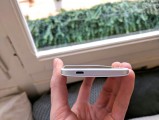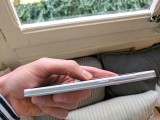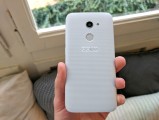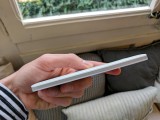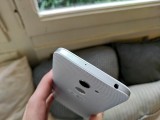 Alcatel A3 from different angles
The back has a nice grippy texture, which makes for a secure hold, and overall the device feels well put together. It certainly doesn't scream 'entry-level' quite the same way that the U5 does, but the 'Affordable premium' tagline Alcatel has assigned to it is only half right (hint: not the second half).