Moto G5 hands-on
Over a total of four generations, the Motorola Moto G line has built up a solid reputation for quality, reliability and most of all, good value in an Android headset. Now the fifth generation is here and while Motorola should, technically, be substituted for Lenovo in the title and the "G" family has been gradually moving up the food chain, leaving its "E" siblings to fill the ultra-value segment, the basic formula is still the same. Perhaps even better.
There are at least a few major draws to the Moto G5. Interestingly enough, some of them aren't even shared with its bigger Plus sibling, which makes it a pretty unique offer. Perhaps even more so than the previous iteration.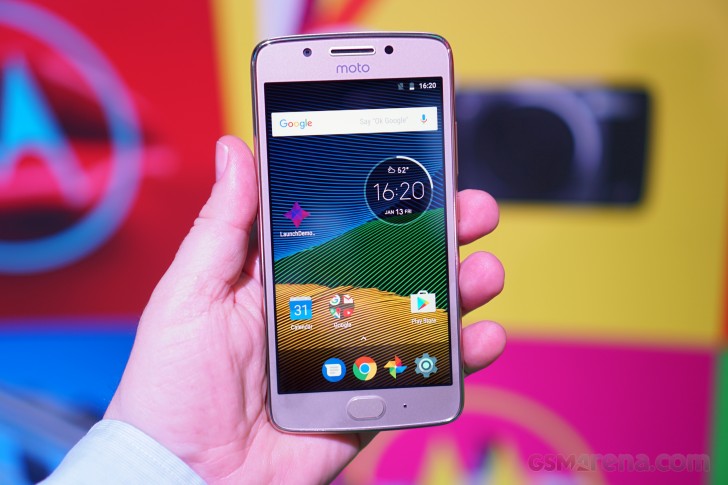 Starting from the top, there is the question of design. This time around, Lenovo has brought metal into the mix. While definitely a Moto G first, the overall silhouette doesn't exactly hold a universal stylistic appeal. Since beauty is in the eye of the beholder, we will just note that the new lines are a big departure from the previous generations.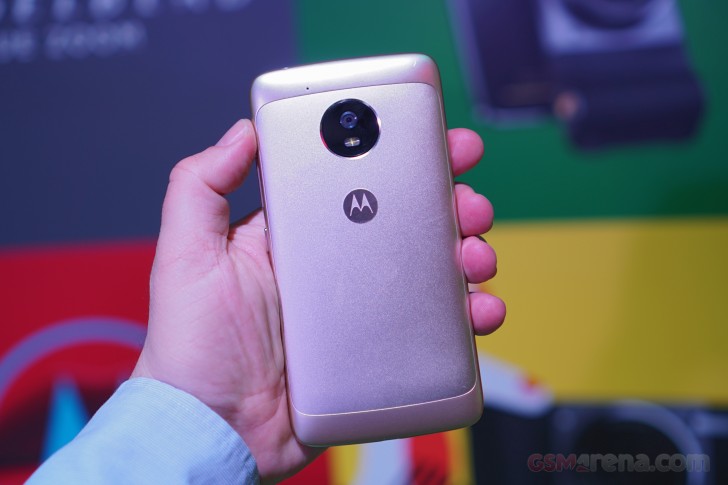 The back is now distinctly arched, which does have the benefit of eliminating any camera hump. However, besides being odd purely on the grounds of being new, the signature M logo on the back is no longer a dimple. There goes the convenience of having a place for your index finger during calls. Okay, we're just joking.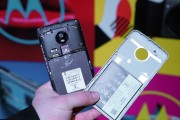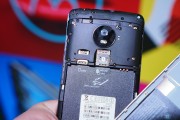 Moto G5 removable back and battery
While on the topic of the back, its contents do appear pretty ordinary at first sight, the camera is accompanied by a LED flash. And a small microphone hole is visible as well. There is a peculiar inner lining that might be misconstrued as the first sign of a detachable back cover. In fact, the back plate is, indeed, removable, but not along said edges. Instead, a significantly larger portion of the back plate comes off.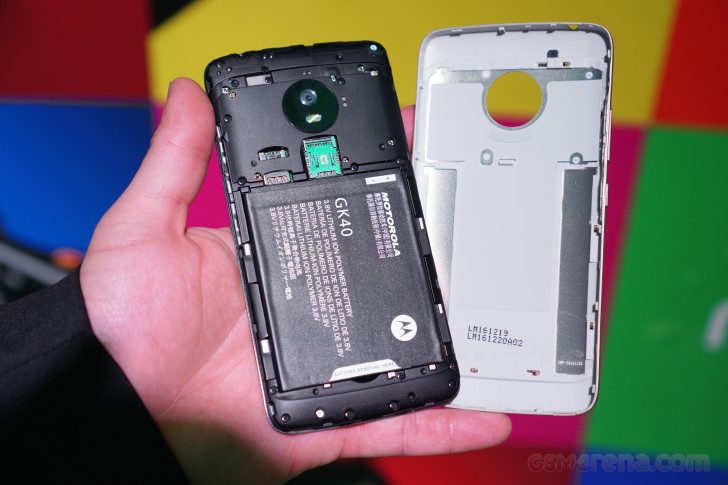 Okay, good enough so far. Just like the Moto G4, you might think. However, unlike its predecessor, the Moto G5 has a removable battery. This has become such a rarity in today's Android market, that we simply have to point it out. Plus, it was an irritation and odd omission on the Moto G4. You can simply take out the 2,800 mAh pack and put in a new one, or a spare for an instant recharge. Or, you could use Moto's 10W rapid charger to top it off instead.
Still, before you hurry on and praise Lenovo all together, you should probably know that the feature is missing on the G5 Plus. We presume, they just had to leave some of the confusion intact. As for that camera, we mentioned, it seems pretty decent and quite similar to the shooter on the Moto G4 - 13MP, with a f/2.0 aperture. Now, it's one flash LED shy.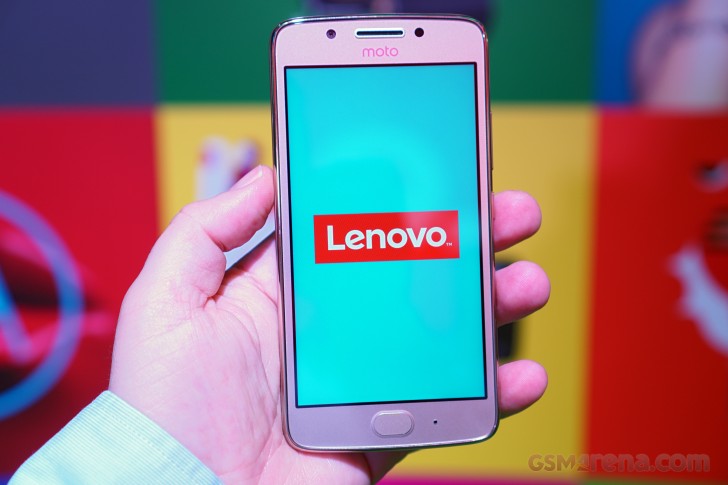 Quickly going round to the front of the Moto G5, we find another potentially polarizing picture. The Home button looks a lot better than the G4 Plus one. It has an obvious tactile hump to it. It's still not clickable, so we assume the design team is taking things one step at a time. Still, we can't fail to notice that this time around even the basic Moto G has the input control and its embedded fingerprint reader.
As for a few less likable elements on the front, the main microphone is still oddly placed on the bottom bezel. Oh and the accent around the earpiece has gotten even bigger and more defined, for some reason.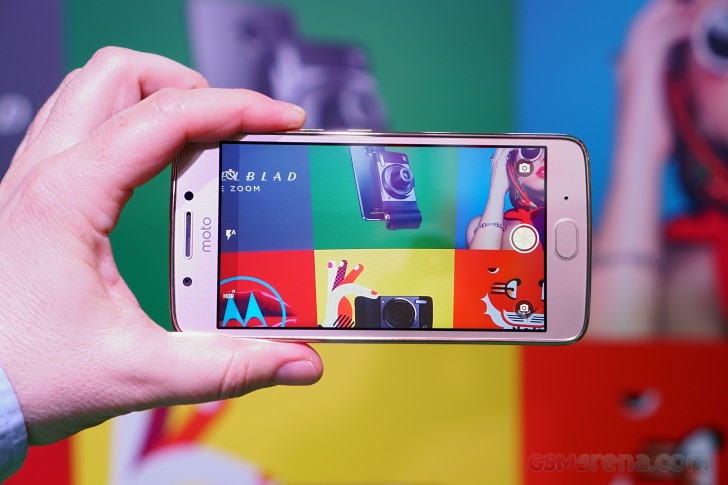 As far as the 5.0-inch, 1080p display on the G5, it is pretty decent, with really nice viewing angles. Oh, we almost forgot to mention, its half an inch smaller than that on the Moto G5. In fact, both fifth generation phones seem to have shrunk down in size. That extends to the overall footprint of the device as well and its weight - 144.3 x 73 x 9.5 mm, 145 grams.
A few words about internals are also in order. The Snapdragon 430 chipset has been getting a lot of criticism when it appeared on the recent Nokia 6, but we still feel it is plenty powerful enough for most everyday tasks. And we'll just leave this aspect of the phone there.
In typical Moto fashion, the Moto G5 is subject to customization, and it's not only cosmetic. On some markets, it will be offered with 3GB of RAM, while others will be stuck with 2GB. Sadly, it doesn't seem to be a user-selectable option in the Moto Editor at this point.
Connectivity-wise, there is little improvement over the previous generation. Cat. 4 LTE, Wi-Fi a/b/g/n and an optional Dual-SIM variant.
In terms of software, you can still count on a pure Android experience. Interestingly enough, the Moto G5 runs Google's Pixel launcher, complete with the Google Assistant. Moto has only added its typical thin layer off app improvements on top of that.
The Moto G5 is expected to start hitting markets in March this year, with a price tag starting at EUR 199. That's for the 2GB, plus 16GB speck.
First impressions
Motorola matched Sony's and Nokia's best features in the mid-range and undercut their prices. A solid showing through and through.
We just wish that Motorola could clear up the regional mess - give us two tiers of storage and 2160p video capture regardless of the market. Right now, we feel like we're getting slighted in Europe, even if 1080p video is the standard for this class.
Anyway, while other announcements garnered most of the hype, we have a feeling the Moto G5 and G5 Plus will prove to be some of the best phones to come out of this year's MWC.