Snapdragon 845 flexed its muscles in AnTuTu, now it has come to Geekbench 4 onboard an unknown device. This benchmark is easier to compare with current-gen devices as AnTuTu had a major upgrade recently.
The device tested ran Android 8.0.0 Oreo and packed 6GB of RAM. Unfortunately, itís model name and even maker have been scrubbed, so thereís no way to tell if this is the Xiaomi Mi Mix 2S, a Samsung Galaxy S9 or something else altogether.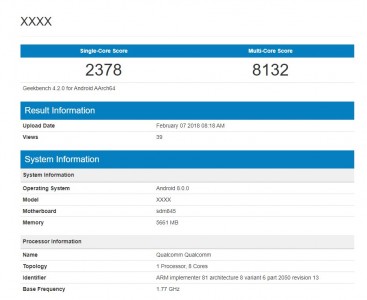 Snapdragon 845-powered device leaves its footprints in Geekbench 4.2
Here are the results, the ones in red are Snapdragon 845 devices while the green ones are phones with the current 835 chip.
Geekbench 4.2 - Single Core
Unknown device
2378
Sony H8266
2393
Samsung Galaxy S9+
2422
Samsung Galaxy S8+
2001
Sony Xperia XZ1
1931
Google Pixel 2 XL
1893
Geekbench 4.2 - Multi Core
Unknown device
8132
Sony H8266
8300
Samsung Galaxy S9+
8351
Samsung Galaxy S8+
6577
Sony Xperia XZ1
6254
Google Pixel 2 XL
6348
F
an i3-6100 scores ~3100 on Windows 10, whole scores ~3500 on Ubuntu 17.04 LTS. that's quite a difference. well, maybe you find reputable reviewer not using GB as benchmarking tools as fine. but you should think about it. yes, A11 is the fas...
?
Of those running same machine with both OS I have seen a difference closer to 5%. Which sites you find "professional" is up to you. It's still being used and again there are tons of (better) options on desktop, on mobile there is not. Adding a...