Little over a week ago Nokia released N9 PR1.2 beta version to the Nokia N950 developer device but at the time we didn't have the full changelog at the time.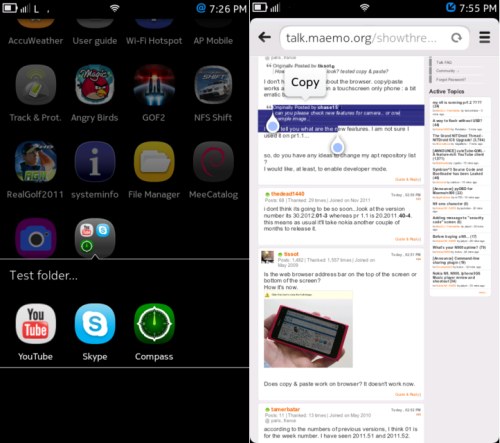 Well now we do - it includes 5 new languages, app folders, extended copy-and-paste support (finally!), lockscreen music controls, front camera support, etc. Also there are many bug fixes and tweaks. We can't wait to take it for a spin on the N9.
Here are the most noteworthy improvements in the N9 PR1.2 beta version.
• Software update notifications for content in Nokia Store
• Face recognition for gallery and face tags for Facebook
• Support for folders in the application view
• Mail thread support in the Email client
• Extended copy-paste support
• Media sharing with DLNA compatible devices
• Compass support in Maps
• New font taken into use
• Front camera support
• Video editing support in the Gallery application
• Separate switch for controlling mobile background connections while roaming
• Camera: self timer, grid on/off control
• Clock alarm becomes silent by flipping the device face down instead of snoozing
• People view added to the grid toolbar in the gallery
• Audiobook and podcast support in the music player
• Ability to create playlists in the music player
• Ability to delete music files from music player library views via object menu
Users who own the N950 and are eager to test out the new beta should know that upon updating there's no going back to version 1.1. MeeGo doesn't allow moving down beta versions.
D
NOKIA you´re the owners of MEEGO, don´t underestimate what you already have. Symbian is great, MEEGO is the closest to perfection. Even Lumia owners grab my N9 with carefullness. We understand enterprises need funds, and we (customers/own...
f
when nokia support a video call ? please confirm me
M
Halleluja! I've missed my N900 so much. Am getting my N9 this week. Goes great with my Mac. The update could not have come at a better time for me.
ADVERTISEMENTS