The nano-SIM standard became official just this year and all rumors suggests the next-gen iPhone to be the first device using it.
Just like the micro-SIM slot used for the first time in the iPhone 4, the nano-SIM just feels right for the next iPhone.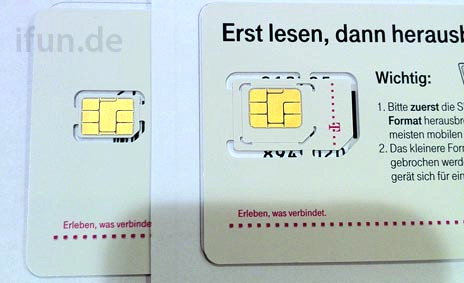 With the iPhone 5 launch closing, the carriers are getting ready for its new slot. As you can see, T-Mobile is stocking up on nano-SIM cards for the "latest generation of smartphones that come in the near future" (translated). T-Mobile also instructed its staff not to give out these cards to customers yet.
So, the next iPhone will supposedly have a new SIM slot, a new connectivity port, new headphones, and new screen aspect ratio. The next iPhone seems to be dropping out everything Apple has relied on these years, and yet again replacing it with its own proprietary solutions.
R
I had a iPhone 4 which uses the microSIM. I now have a Samsung Galaxy Grand. 5" screen and its dual SIM, both the regular mini SIM, yeah proper SIM cards. This makes for a great travellers phone who buys a new SIM each time entering a new countr...
R
Isn't life more simple when we have standards, for a long time we have had a standard nicely sized sim card. Now that phones have generally been getter bigger instead of smaller, someone decides the sim card should be smaller! Why! OK great it saves ...
?
If they want to make more money they should increase the price for phone rather causing inconvenience. The most important of all is charger. iPhone alone is not shifting to micro USB..... That's some cheap money making style that doesn't go wit...
ADVERTISEMENTS