One of the major SatNav suppliers Navigon have released a version of their Mobile Navigator through Apple AppStore. The new app runs on the Apple iPhone turning it into a fully-fledged SatNav solution.
The Navigon Mobile Navigator is now available at the App Stores in Europe. North America will be following shortly, Australia is in the works.
The Mobile Navigator app uses map data by NAVTEQ, so you should be getting the same grade of map coverage and details as provided by Nokia Maps. The maps will be preloaded on the device so there will be no need downloading it live as you go around.
TomTom might have been the first company to announce mobile navigation software for the iPhone but it seems that Navigon are the first to release one.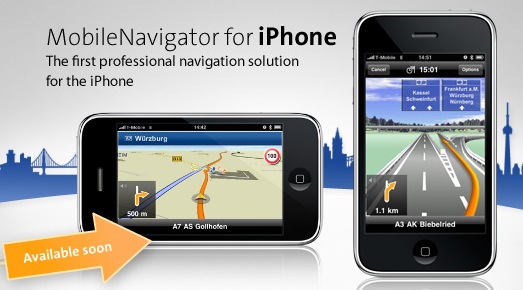 The Navigon's Mobile Navigator makes use of the popular NAVTEQ maps, which can be preloaded in the storage memory so the software doesn't need any data connection. This will be very helpful especially when navigating abroad where roaming charges can be hard on your monthly bill.
The Navigon Mobile Navigator for iPhone will have 2D and 3D maps, automatic portrait and landscape modes, precise voice navigation, pause during calls, speed assistant, real signpost display, take-me-home function and much more familiar features of the current Navigon software products.
Here's the official demo video of the Mobile Navigator for iPhone in action:
The current pricing of the app is the same as the regular mobile version of their Mobile Navigator 7. The app along with a full map of 40 European countries will cost you 74.99 euro until the end of June. Afterwards the regular price will be 99.99 euro.
Soon a new regional version will also become available that will cost you 49.99 until the end of June with a regular price after that of 69.99 euro.
And finally, a LITE version will also be available free of charge. It will run on iPod Touch devices as well and will not offer active route navigation. The LITE version however will have the latest map material and will display POIs (Points of Interest) in the vicinity.
The only requirement for using the MobileNavigator on the iPhone is the new Iphone OS 3.0.
?
Funny that, I bought it today and it lasted almost an hour on my dashboard without charging.....
k
i tried and it drains battery less than 2 minutes, 1% of battery life goes away. not good
t
I'm not an Apple fan. But I do know that Apple only have 3 different versions of iPhones.. and 2 iPods. since the 2 iPods does not count on this website. We all know that Nokia has been making phones ever since and they are #1 at that. However, Nokia...
ADVERTISEMENTS