There are numerous reports Apple will be unveiling a new iPhone model this March, together with the new iPad lineup and MacBook refresh. There are quite a few unbelievers there, but this recent report may help many understand why the possibility is more than real.
According to Mixpanel's report on the iPhone models about 19% of all iPhone owners are still holding on to their beloved iPhone 5s. The iPhone 5 accounts for about 8% of the users while the iPhone 5c and iPhone 4s are 5.4% and 4.2% of all active iPhones.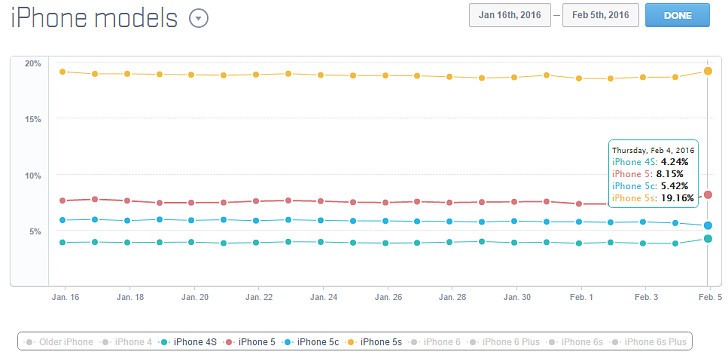 These numbers confirm that one-third of the active iPhones users are loving their 4" display and aren't exchanging it for a bigger one. If you add the iPhone 4s and older 3.5" models, we get a number close to 40% of users not using larger model iPhone.
Sure, there are lots of reasons for people not upgrading their iPhones, but one of the most common explanations is because of the new bigger screen size. Many people are seeking an upgrade, Apple just isn't presenting them the device they want.
These numbers can be easily translated into a demand for a smaller iPhone and then those rumors about an upcoming smaller iPhone 5se begin to make sense. We are sure Apple also acknowledges these shares and what's a better way to make those people upgrade if not an iPhone 5s spiritual successor - like an enhanced edition such as the iPhone 5se is rumored to be?
?
1. design "too" 2. it's 4"/ 4.7"/ 5.5"
w
While its true that there might be people not changed their phones due to money issues ... myself and atleast 2 of my friends that are filthy rich ... still using 5s and that is not only cuz the 4" but the design 2 . They did big mistkae when decide...
?
Great point. I am one of those who will never buy a phone with more than 4.7 inch. I have medium hands but I am wearing t-shirts and jeans most of the time. I don't have an inside pocket in my T-shirts so I want my phone to fit in my jeans. :) A...