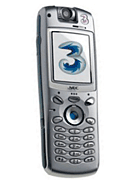 m
looking to buy a fone on 3pay, not very many options..one is a big beast (motorola), the other is this..cheaper tho no idea of small print..does it really have xtra memory card slot?? does it also play mp3,and if so how do i store? and finally any idea what the real diffrnce is between this and nec 616 (price, features etc - p.s. 3pay of course). For about £100 not a bad wee gimmick that gives u many features on a network that kicks ass..i mean who can promise u 5p/min to all networks with no min daily duration (all other networks do).
t
great phone 10/10
but no infrared port or bluetooth

M
this phone is like a girl with too much hormones. one thing to get straight, no one wants a to carry around a 15cm brick! and that would explain the price. go for
the e616!
M
Does anyone know how many txt messages this phone can store?? how many?? plz......thanxs!
Total of 464 user reviews and opinions for NEC e313.