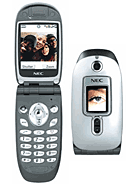 b
Hi all. This phone rocks! I've only had it for less than 24 hours the polyphonics are awesome. Mine came with default mickey mouse backgrounds. It also has the the Austin Powers theme song in it as well. At 40 chord polyphonics is sounds a lot better ad louder than the Samaung T100.
r
when in belgium for "i-mode" ???????
at what price ????
i hope in 30 days !!!!! and not a minute longer !
D
pls is the phone out in the uk.and how much is it pls.
P
Good day i will like to have the price of the above named NEC GSM phone.Thanks.
t
I need picure and document :
h
where and how much the price that item i can buy
s
is the best,style,perfect
p
oh yea it is a really cool phone too...i still like the sanyoSCP-5300 tho!
p
what is the price, where can i find the price of all these phones on this site?

D
My. It is a bit slow isn't it??? This phone was already launch in China last December. Of course overall its better then Panasonic GD88 since I have both phones. :)
N
Good feature w/ 100k pix built in & etx.LCD colors 4096 + Picture phonebook .The only minus was the dimension for clamshell w/ long 110mm & thick 24mm
N
hi all!!! i like diz fone, will replace my old gd 88!!!!!
Total of 133 user reviews and opinions for NEC e525.
ADVERTISEMENTS